What is the power of one book? Can it do more than enlighten and entertain individual readers? Can it impact the heart and soul of a community, help us to open new lines of communication and lay the groundwork for a stronger and better Forsyth County? We believe that On the Same Page, the Library's community book reading program, has the potential to do just that. On the Same Page seeks to broaden appreciation of literature through the shared experience of reading and discussing a single work of literature. It offers us a unique opportunity to see things through a different perspective, one that will only expand our understanding of the world around us.
The Forsyth County Public Library also sponsors an annual celebration of poetry that complements On the Same page, called On the Same Poem, in which participants read and discuss a single poem.
Now in its 16th year, On the Same Page continues!
2016 Book Selection
Animal, Vegetable, Miracle by Barbara Kingsolver
September 10 to October 15, 2016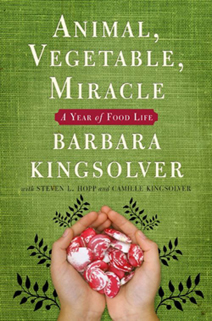 When bestselling author Barbara Kingsolver, her husband Steven, and their daughters Camille and Lily moved from the literal food desert of Tucson, Arizona to lush farmland in Virginia, they made a pledge: For one year, they wouldn't eat anything they couldn't either grow themselves or purchase from a local grower. Animal, Vegetable, Miracle is the story of that year. Follow Kingsolver and her family as they stalk the "vegetannual," raise their own chickens, make creative use of a bumper zucchini crop, and learn the ins and outs of turkey breeding. The book is equal parts funny, informative, and heart-warming, and we're thrilled to feature it for On the Same Page.
Join us this fall for a month-long series of programs building off of the themes of farming and good nutrition. It all begins with our kickoff event at the Bookmarks Festival on Saturday, September 10 and it culminates in a finale at Reynolda House Museum of American Art on Saturday, October 15 at 2:00. Click here for a full schedule of On the Same Page book discussions, film screenings, lectures, and other related events!





2015 Book Selection

In the Heart of the Sea by Nathaniel Philbrick

2014 Book Selection

Serena by Ron Rash

2013 Book Selection

The Pursuit of Happyness by Chris Gardner

2012 Book Selection

The Warmth of Other Suns by Isabel Wilkerson

2011 Book Selection

The Road to Devotion by Cameron Kent

2010 Book Selection

The Maltese Falcon by Dashiell Hammett

2009 Book Selection

Their Eyes Were Watching God by Zora Neal Hurston

2008 Book Selection

Fahrenheit 451 by Ray Bradbury

2007 Book Selection

Ender's Game by Orson Scott Card

2006 Book Selection

The Land Breakers by John Ehle

2005 Book Selection

In the Time of the Butterflies by Julia Alvarez

2004 Book Selection

I Know Why the Caged Bird Sings by Maya Angelou

2003 Book Selection

Walking Across Egypt by Clyde Edgerton

2002 Book Selection

To Kill A Mockingbird by Harper Lee