By Rick Plunkett
Posted Thursday, June 4, 2009
Telecommunicator of the Year is Selected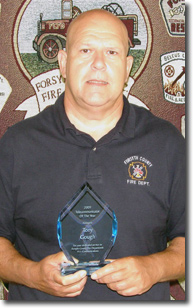 Tony Gough was selected as the Telecommunicator of the Year for the 911 Communications Center at the Fire Department. Fire Administrator Rick Plunkett presented his award at the monthly staff meeting in June.
Tony began his career at the Fire Department in August of 1989 and has been a very valuable and dependable employee. Working in the 911 environment at times can be very stressful and hectic. Tony always remains calm and resilient and his judgment is respected by all of his coworkers.
Tony also is retired from the Lewisville Volunteer Fire Department where he held the position of Lieutenant. He lives with his wife Francis in Lewisville and they have two sons, Steven and Brian.