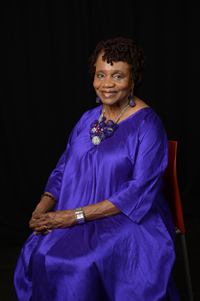 Message From the Director
An article in the Atlantic Monthly recently referred to us as "The Library That's Also an Art Gallery." The article's author had toured Central Library when she was in town. We were happy that Central Library received national attention for its open floor plan and numerous pieces of art, but we like to think of each of our ten libraries as small gems that reflect the communities they serve.
The Paddison Memorial Branch, which opened in 2018, has been warmly embraced by the Kernersville community. People gather in its lovely courtyard, they come to vote and soon they'll be able to secure their bicycles in a decorative rack that has been commissioned as a public art project.
The Malloy/Jordan East Winston Heritage Center (MJEWHC) celebrated its 65th anniversary. Like the community it serves, the MJEWHC is layered with history and memories. It houses an oral history program, a permanent display of historic photographs and an art collection, all from an African American perspective.
The Walkertown Branch, which opened in 1992, is a hub of community activity. This branch serves as the regular meeting place for the Walkertown Town Council. It's also the only branch that has a grand piano for concerts and recitals. The branch has some of the most varied and creative programming in our library system, with language classes, history programs, art and tai chi classes, as well as programs that feature people with fascinating hobbies, experiences and interests.
Soon the residents of Clemmons will be able to gather in a new Clemmons Branch. The new branch will be more than double the size of the current one and will feature larger children's and adult areas, a separate teen space, a larger auditorium and a makerspace for craft and technology projects.
The Clemmons Branch is the final phase in the $40 million bond for library construction that was approved by voters in 2010.
As always, we thank you for your support and enthusiasm for the Forsyth County Public Library system. We are happy to serve you and hope to see you soon.
Sylvia Sprinkle-Hamlin
Library Director