What is the power of one book? Can it do more than enlighten and entertain individual readers? Can it impact the heart and soul of a community, help us to open new lines of communication and lay the groundwork for a stronger and better Forsyth County? We believe that On the Same Page, the Library's community book reading program, has the potential to do just that. On the Same Page seeks to broaden appreciation of literature through the shared experience of reading and discussing a single work of literature. It offers us a unique opportunity to see things through a different perspective, one that will only expand our understanding of the world around us.
The Forsyth County Public Library also sponsors an annual celebration of poetry that complements On the Same page, called On the Same Poem, in which participants read and discuss a single poem.
Now in its 15th year, On the Same Page continues!
2015 Book Selection
In the Heart of the Sea: The Tragedy of the Whaleship Essex by Nathaniel Philbrick
September 12 to October 11, 2015
Cabin boy Thomas Nickerson was only 14 years old when he stepped aboard the whaleship Essex for the first time in the summer of 1819. He was full of enthusiasm, eager for an adventure on the high seas. The newly appointed captain of the ship, George Pollard, was determined to prove himself a capable leader, while his cocksure first mate Owen Chase aspired to become a captain himself someday soon. The 20-man crew had hopes of exploring the far reaches of the globe, visiting exotic locales, and bringing home a fortune in oil and ambergris. Little did these men know, their voyage was doomed.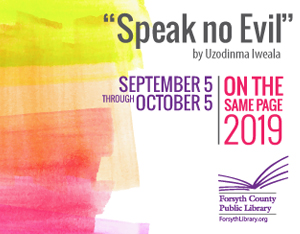 Out in the middle of the vast Pacific Ocean, the Essex was attacked and sunk by an enormous sperm whale. Reports of this violent attack inspired Herman Melville to pen the great American novel Moby-Dick, specifically the climactic showdown between Captain Ahab and the white whale. But Melville only told half the story. Everything that followed the attack, as the crew of the Essex struggled to sail thousands of miles back to land in tiny rowboats, was even more harrowing, even more suspenseful. The very limits of human endurance were tried and not all of the men were up to the test...
Reserve your copy of In the Heart of the Sea today and get ready to join in the fun as we present a series of related events, beginning with our kickoff at the Bookmarks Festival on Saturday, September 12 and culminating in a finale at the Arts Council Theatre on Sunday, October 11. Keep a weather eye on the horizon and keep checking this website for updates and a full schedule of events!
2014 Book Selection

Serena by Ron Rash

2013 Book Selection

The Pursuit of Happyness by Chris Gardner

2012 Book Selection

The Warmth of Other Suns by Isabel Wilkerson

2011 Book Selection

The Road to Devotion by Cameron Kent

2010 Book Selection

The Maltese Falcon by Dashiell Hammett

2009 Book Selection

Their Eyes Were Watching God by Zora Neal Hurston

2008 Book Selection

Fahrenheit 451 by Ray Bradbury

2007 Book Selection

Ender's Game by Orson Scott Card

2006 Book Selection

The Land Breakers by John Ehle

2005 Book Selection

In the Time of the Butterflies by Julia Alvarez

2004 Book Selection

I Know Why the Caged Bird Sings by Maya Angelou

2003 Book Selection

Walking Across Egypt by Clyde Edgerton

2002 Book Selection

To Kill A Mockingbird by Harper Lee