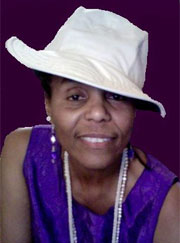 On The Same Poem celebrates dynamic Georgia performance artist and poet, Dr. Doris Davenport. The award-winning poet and Stillman College professor is our special guest for Forsyth County Public Library's On The Same Poem Luncheon. Dr. Davenport's featured poems, "Conversation with a Ladybug" and "hot (another list)", are from her acclaimed collection of new poetry Ascent. Please bring a brown bag lunch and join us for lunch with Dr. Davenport. Space is limited. To reserve seats, call 336-703-3022 or email Candace Brennan.
On the Same Poem Luncheon
April 26, 2012 at Noon
Central Library Auditorium
Forsyth County Public Library's On the Same Poem Luncheon has become a staple of National Poetry Month in Forsyth County. On The Same Poem, an extension of On The Same Page—the county's annual Community Read Project—is the shared experience of reading and discussing a poem, selected for the occasion by the featured poet. Dr. Doris Davenport will be reading "Conversation with a Ladybug" and "hot (another list)" from her poetry collection, Ascent. Over a brown bag lunch, participants will meet the young people who win this year's poetry contest and discuss the poems, facilitated by discussion leaders at each table. The luncheon will conclude with Dr. Davenport answering questions from the audience. Make your reservation today!
"Conversation with a Ladybug (Good luck if you see one, if one lights on you.)"
an orange-red tinyspot of comatosity,
on my airless desk in this
sunbaked, stale aired classsroom,
she seemed unconscious, dead
until I prodded her, politely, with a left index finger. then tiny black
feeler feet emerged, moved,
weakly she pulled herself up my finger
like it was a rubber raft lifesaver in a rough ocean
floating wood in the debris
of her own mini Titanic, like
my finger was a lost & feared
gone forever friend she'd waited so long for,
she clung tenaciously to my
finger, roamed slowly its
surface as i lifted her tenderly
outside to air but
she held tight had to
prise her off & onto the
shrub-tree deep orange autumn
leaf outside Holley Hall suddenly
she flew. away.
"Hot (another list)"
glaring hot
12 noon shootout hot
beatdown hot
beat you down again, hot
in your face hot
make you fight your
grandmomma (& anyone else) hot
sticky hot
"disrespectful" hot
mean hot
ugly hot
sweltering, blistering, endless
pointless hot
vengeful hot
stultifying enervating
humiliating
repressive hot
oppresive hot
day long morning sunrise to 12 midnight gotcha still
sweating hot
don't you dare turn off that
a/c at 3 a.m. hot
& I will kill myself for some relief (in hell) but
it's too hot to die, hot.
Ascent by Doris Davenport
Ascent is an eclectic collection of new poetry including an innovative "text-in-body" section. Topics range from rhythms of everyday life and the nature of things in our existence to the highly controversial and political (as well as disturbingly, intimately personal), to the softly humorous and quietly meditative. Doris Davenport delightfully explains that her poem are "to be performed and / or not." Along with the new poems, the illustrations and photographs are by the author.
More about Doris Davenport
The Nature of Things: Poetry/Rap/Song Contest for Young People
This year we have a poetry contest for young people in middle school and high school. Entry forms can be found at any Forsyth County Public Library, or from student's teachers and media specialists. The prizes will be awarded in the two age groups and winners will receive signed copies of Ascent by Doris Davenport, Barnes and Noble gift cards, and lunch with the poet at our On The Same Poem Luncheon on April 26 at noon at Central library auditorium.
Submit your entry to Central Library Information Services Department by 5:00 pm, Saturday, April 14th.
Submit your entry to Teen Central at Central Library by 5:00 pm, Saturday, April 5th.
Contest Rules
Submit Entries to Central Library Reference Department by 5 pm on April 14, 2012
Poems must be original work and you may submit up to 3 works per poet
Automatic disqualifications for derogatory or explicit language
For more information, please call 336-703-3022 or email brennacm@forsythlibrary.org
On the Same Poem 2012 gratefully acknowledges the support of :