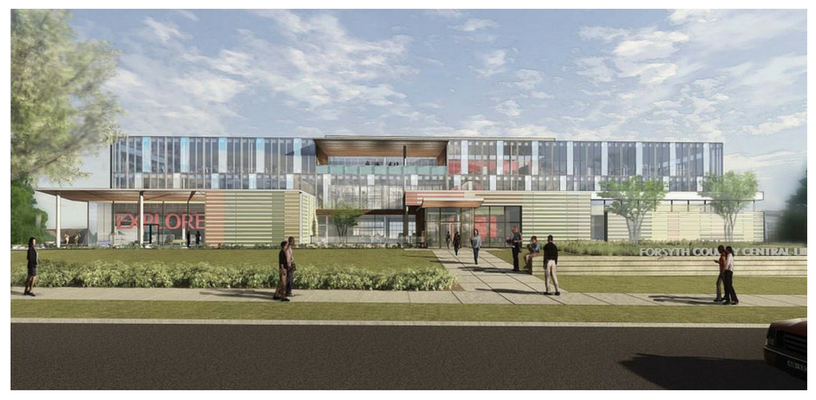 By Jacquelyn White
Posted Monday, January 23, 2017
New Central Library Updates
The long-awaited design for a new Central Library was announced during a Forsyth County Board of Commissioners weekly briefing session on November 13th. The new building will offer 103,000 square feet of flexible space, a 17,000 square feet increase over the old Central Library. Also part of the new design is a cafe/coffee bar.
Architects also revealed plans for a Makerspace, following a popular trend in public and academic libraries across the country. In short, Makerspaces are dedicated areas in libraries where people can gather to make and create. Makerspaces bring people together to share supplies, skills and ideas while working on projects. Often this includes innovative technological features such as 3-D printers and the like.
Customers of our North Carolina Room and Children's Department will not be disappointed with what's in store for them in our new building as both areas will offer more efficient and easier accessed space than before.
Two features that stand out immediately with the new design is the openness of the interior, with clear sight lines and the generous use of natural lighting. Another feature is the large 305 seat auditorium which will have a separate entrance off of Spring Street making it ideal for use after normal Library operating hours.
As you enter the new Library from Fifth Street the architects have planned a beautiful lawn space and outdoor reading garden that will provide quiet places for customers to sit and read and more usable space for programming during warm weather months. Taking advantage of a natural ridge-line that the new Library will sit upon, there are plans for a third floor reading room which will offer wonderful views of Wait Chapel and Pilot Mountain.
Pre-construction testing is scheduled to begin shortly, laying the groundwork for demolition of the 1952 front section of the old library and the stripping away of the back portion starting in January. Completion of the project is scheduled for the first part of 2017.
Interested in donating to the new Central Library? Here's how.
Schematic drawings of the new Central Library
Stay up to date with the Central Library Renovation project:
Central Library Update (9/19/2014)

Central Library Closed for Pre-Construction and Renovation (10/15/2014)

Design Announced For New Central Library (1/22/2015)

Commissioners Approve Contract Bid To Demolish Central Library (7/29/2015)

Central Library Prepares for Renovation (8/24/2015)

Construction Web Camera Now Up and Running (9/22/2015)

Groundbreaking Ceremony Held for Renovated Central Library (10/01/2015)

Forsyth library construction projects to move forward in 2016 (12/27/2015)

Commissioners take futuristic look of Central Library (09/15/2016)

New Central Library in Winston-Salem on track for mid-summer opening (12/11/2016)

Photo Construction Update for New Central Library (12/13/2016)

Renovated Central Library in Winston-Salem is within months of construction completion (01/23/2017)
Contact Us
336-703-BOOK (2665)
Email:
Contact Us
Hours of Operation
Monday-Thursday 9 a.m. to 8 p.m.
Friday 9 a.m. to 6 p.m
Saturday 10 a.m. to 5 p.m.
To-Go Service Hours
Monday-Thursday 9 a.m. to 8 p.m.
Friday 9 a.m. to 6 p.m
Saturday 10 a.m. to 5 p.m.
Holiday Closings
Monday, January 2 - New Year's Day
Monday, January 16 - Martin Luther King, Jr. Birthday
Friday, April 7 - Good Friday
Monday, May 29 - Memorial Day
Tuesday, July 4 - Independence Day
Monday, September 4 - Labor Day
Friday, November 10 - Veteran's Day
Thursday, November 23 - Thanksgiving
Friday, November 24 - Thanksgiving
Friday, December 22 - Christmas holiday begins
Monday, December 25 - Christmas
Tuesday, December 26 - Christmas