More Books We Like
Need a New Author?
Get printable versions of these lists by clicking on the list name.
Books We Like
Published 11/7/2014 by Stefanie kellum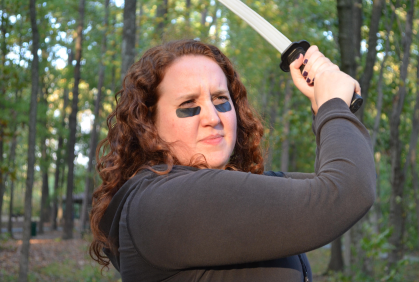 Are you dying for the new Hunger Games movie to come out this month? While you anxiously await Mockingjay Part One, you may want to give one of these Hunger Games read-alikes a try. And don't worry, adults, all of these titles are rated NJFT (not just for teens).
If it's another fast-paced, epic survival novel you're looking for, look no further than The 5th Wave by Rick Yancey. In this sci-fi adventure, our planet has been subjected to four waves of vicious and crippling attacks from unknown and otherworldly beings bent on claiming the Earth as their own. After losing her family, Cassie is determined to live through the fifth wave, and she knows that the keys to her survival are to fight for her life alone and to trust no one. However, when she realizes there's a chance that her brother may still be alive, Cassie must decide if she will stay safely hidden from Them or search for him and fight whatever may come. The 5th Wave is the first book in a trilogy and is followed by The Infinite Sea, which came out in September, and an untitled third installment due out in August 2015.
Prefer a trip to the past for a historical survivor's story? Check out Ruta Sepetys' Between Shades of Gray, a work of historical fiction based on events that occurred in Lithuania during World War II. The protagonist, fifteen-year-old artist Lina, and her family are arrested by Stalin's soldiers and forced to leave their home in the middle of the night. They journey thousands of miles packed into filthy rail cars to arrive at a Siberian work camp, where they are worked to the bone and treated like animals. Can Lina and her family find hope in the grays of the arctic wilderness? This chilling, enlightening, and beautifully written book is painful to read but impossible to put down.
Or maybe you just want more blood, sweat, tears, and high-stakes competition. If so, Maggie Stiefvater's The Scorpio Races is sure to keep you on the edge of your seat. Every November, the courageous riders on the island of Thisby face off in The Scorpio Races, a dangerous race in which they must attempt to tame and race the wild and bloodthirsty capaill uisce. These beautiful but deadly water horses emerge from the surf, and if a lucky rider can find one to lead him to victory, there's fame and fortune and glory to be had, but death could also be a raging hoofprint away. Both Sean Kendrick and Puck Connolly feel the pull of the Races. Repeat champion and orphan Sean is tired of living under the bondage of his despicable employer, so he's laying everything he has on the line in order to start a new and independent life for himself. Puck Connolly, also an orphan, has no choice but to enter the Races; she must win in order to keep her family together, but the islanders won't be kind to the only girl to ever enter the Races. In a deadly race where only one can win and anyone can die, both Sean and Puck find themselves with equally vital motives for victory and a luring camaraderie that's as strong as the pull of the tides.