More Books We Like
Need a New Author?
Get printable versions of these lists by clicking on the list name.
Books We Like
Published 5/8/2015 by Becky Proie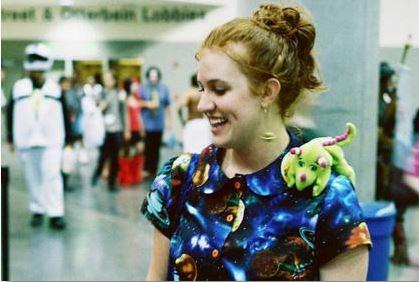 For my children's literature class in grad school, we were required to listen to the audiobook version of The Graveyard Book by Neil Gaiman. I loathed every second of it. I'm pretty sure everyone who was in that class could tell you how much I disliked it because I complained about it so much. Listening to a book instead of reading it just wasn't my thing… at the time. Now, audiobooks, particularly e-audiobooks, are the number one way I make it through my to-read list. If you haven't used the Overdrive app on your iPhone/Kindle/etc yet to access all of our e-audiobooks (and more) available through NC Digital Library, start now! It's a wonderful resource for getting (often much quicker) access to your favorite titles.
Now, I'll be honest, I mostly listen to juvenile and young adult fiction. And the young adult section is riddled with stories just as enthralling (if not more so!) as those found in adult fiction. Let me prove it to you
Eleanor & Park by Rainbow Rowell, narrated by Rebecca Lowman and Sunil Malhotra, stole my heart immediately. This novel has been raved about since it came to life in early 2013. It was a 2014 Printz Honor Award recipient among other accolades. But just because it won awards, does that mean it's actually a good read? In this case, YES! A resounding, scream-it-from-the-rooftops yes. It's funny, a clever kind of funny, that is perfectly performed by the narrators in a flawless teen tone. It tells a wonderful love story that isn't infuriating unrequited love, that isn't gag-worthy love at first sight, but IS super adorable because it happens over the slow sharing of comic books. The relationship that they build is needed by both; Eleanor because she's just trying to survive in a broken home while tackling body image issues, and Park because he's trying to navigate family expectations and what it means to grow up half-Korean. While I'm sure this is just as powerful of a read on paper, I cannot encourage the audiobook enough. The narration is heartfelt with sensitivity, humor, anger, fear, love… you hear it all from both Rebecca Lowman's bashful Eleanor and Sunil Malhotra's passionate Park. Get ready to laugh, get ready to cry, then get ready to put everything else by Rainbow Rowell on your holds list as soon as you're done.
Yay love! But how about some LGBTQA love? Let me present Aristotle and Dante Discover the Secrets of the Universe by Benjamin Alire Sáenz, narrated by the brilliant Lin-Manuel Miranda. I opted for this in audiobook format solely because of the narrator. Lin-Manuel is a Tony award winning genius for his musical In The Heights. The lyrical quality he gives to words is a gift that few people have. His personal use of Spanish is woven perfectly into these Hispanic characters' occasional use of the language. The subtle, rough Aristotle is performed with both a sensitivity and an edge that you know is just beneath the surface. And Dante is so (I dare say) "adorkably" enthusiastic and honest in a way that Lin-Manuel makes you want Dante to be real just so that you can hug him. These characters go on such a journey of learning about themselves through their friendship and potential love for each other. It's heartwarming. This story will remind you that life can be confusing and scary sometimes, but that you need to trust yourself in making the right decisions for you… even if it takes awhile. Let Lin-Manuel Miranda's charm lead you on the discovery.
Totally sick of love stories now? Me too. How about something with weapons. Also, corsets. Time to break out the British accent for Etiquette & Espionage by Gail Carriger, narrated by Moira Quirk. First of all, let me tell you how hard I geeked out when the narrator introduced herself because she is none other than THE Moira Quirk who refereed Nickelodeon's Guts. I was sold. And it only got better from there. Sophronia, our strong female lead, is brilliant. So brilliant that she gets recruited into a spy school disguised as a finishing school. The Victorian England setting is perfect for this story as it allows for the fashion and flair of a finishing school to meld gracefully with the gadgetry and weaponry of steampunk lore. Moira Quirk's British (and Scottish) accent has to adapt to a bevy of characters male and female, young and old, rich and poor, and she does this so well that listeners can quickly feel at home with so many characters. Quirk's accent also helps the listener to delve into this new world and really immerse themselves in the English setting. It's light yet action-packed, silly yet seriously dangerous. And it doesn't have to stop there! Follow up with the rest of the Finishing School series: Curtsies & Conspiracies, Waistcoats & Weaponry, and the upcoming Manners & Mutiny. I can't wait for you to meet Bumbersnoot.