More Books We Like
Need a New Author?
Get printable versions of these lists by clicking on the list name.
Books We Like
Published 7/3/2013 by William Durham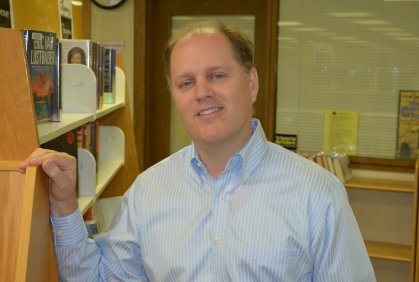 "So what do you have on your iPad?" a friend asked me the other day. A few short years ago, the question would have been, "So, what's on your iPod's playlist?" Anyone who knows me at all knows that my iPad, with its Overdrive and Kindle apps, is like a perfect little bit of heaven for me, joining two of my greatest passions – technology and books. As a librarian, I'm hesitant to admit that I read nearly everything on my iPad. I know some of you are thinking that I've in some way moved to the dark side, or worse, betrayed my profession as a librarian. Don't get me wrong, I still love books – their feel, their smell, their history. What I don't like though is the chaotic pile of books that ends up on the floorboard of my car when I make a sudden stop, or the piles by my bedside that topple like dominoes when I need the second book from the bottom of one of the stacks. Before the iPad, I was drowning in books. Now, all my books are neatly tucked away in digital files, easily carried anywhere.
So, what do I have on my iPad? The short answer is, a lot. I love the fact that I can use my library card to check out ebooks from my library for free, but in the spirit of full disclosure, Amazon's "One-Click" payment button is like crack to an addict for me. Let's say, for instance, I'm watching Oprah's show, Super Soul Sunday. Oprah (whose book club, years ago, turned the publishing world on its ear) regularly interviews the great spiritual thinkers of our time, and of course, every one of them has written a book or three. One-Click! Or maybe I've just seen an incredibly great Ted Talk, and I just have to read speaker's book. One-Click! Anyway, what follows are the reviews of a few of my favorite "Super Soul Sunday" one-clicks. But for those of you who still prefer, or even revel in, your piles of books in your car, in your bedroom, in your den . . . don't worry, you can still check out the print copies of these titles from your library.
8 Habits of Love: Open Your Heart, Open Your Mind, Ed Bacon. Reverend Ed Bacon believes that every person can live a full, creative life if they can learn to work through emotions such as fear, anger, and sadness to find what he terms "the beloved" within us. 8 Habits of Love is a spiritual guidebook to living life through love and connection, and freeing one's self from fear and isolation. Bacon uses stories from his life as an Episcopal priest to illustrate ways in which we can all create meaningful lives by developing the eight habits: stillness, truth, forgiveness, compassion, play, candor, generosity, and community. He also implores the reader to ask himself a few important questions such as: How do I forgive those who have hurt me? How do I talk candidly with difficult people? How do I best help others when they need it? And how do I let go of the past and move forward? This is an excellent book for the person who feels he is just beginning to delve into his own spiritual journey, but those further along their path will find plenty to chew on.
The Untethered Soul, Michael A. Singer. The author puts forth the idea that our identity is to be found in our consciousness, based on the fact of our ability to observe ourselves, as well as the world around us. Singer shows how meditation and mindfulness can aid in the development of consciousness and enhance our ability to live in the present moment.
In part one, Singer examines the idea of self and inner dialogue. Part two looks at how energy flows through us. The author develops the idea that we should open our hearts to the energy of the experiences that infuse every moment of our lives. As Rabbi Heschel said, "In every moment, something sacred is at stake." In part three, Singer looks at ways to overcome tendencies to close down to the rest of the world. Enlightenment, the embrace of universal consciousness, is the subject of part four. In part five, Singer discusses the pursuit of unconditional happiness in our daily lives. Throughout the book, the author offers easy exercises that help readers experience the ideas set forth in each chapter. Those who have read Eckhart Tolle's The Power of Now or A New Earth will be very comfortable with the ideas and teachings of Michael Singer.
Falling Upward: A Spirituality for the Two Halves of Life, by Richard Rohr.I like to describe Richard Rohr as irreverently reverent. At the very least, readers will find him challenging, but humorous. In Falling Upward Richard Rohr seeks to help readers understand the tasks of the two halves of life and to show that we have to fall down to understand the "ups" of life. Rohr believes that we should spend the first half of our lives building the vessel, and the second half filling the vessel. According to the author, many never move beyond building half of life. Indeed, many people go through life unaware of themselves as spiritual beings. For those people, the second half of life is largely about getting old, dealing with health issues, and letting go of life. Rohr, on the other hand, says that what looks like falling down can largely be experienced as "falling upward." He explains why the second half of life should be full of spiritual richness, offering a new view of how spiritual growth happens and how loss is gain. Falling Upward is a thought-provoking book that is well worth the read. I give it my highest recommendation.
What's on your iPad?