More Books We Like
Need a New Author?
Get printable versions of these lists by clicking on the list name.
Books We Like
Published 4/9/2014 by Michael Ackerman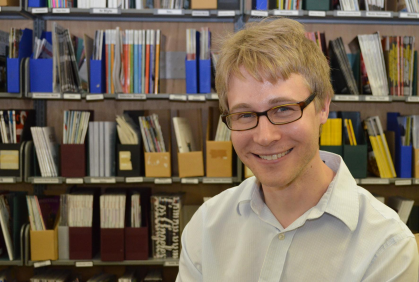 The Harry Potter Series by J. K. Rowling
Last summer, I mentioned off-hand to a couple friends that I hadn't read the Harry Potter books nor seen the movies. I was in high school when the first ones were published and suffice it to say that I had other things on my mind (How Harry managed to take on the Dark Lord while juggling classes and studying and coping with a massive influx of hormones is beyond me.). My friends were outraged ("And you call yourself a librarian?!" "For shame!"), and insisted that we read them together, back-to-back-to-back.
Each time we finished a book, we'd get together for a miniature Potter party, where we'd discuss the story, drink warm, homemade butterbeer, and watch the film adaptation. It was a lot of fun!
Last month, I finished reading the final entry, Harry Potter and the Deathly Hallows, and looking back, I've got to say the books absolutely lived up to all the hype. I loved them. J.K. Rowling is a masterful storyteller. She created a richly-detailed world with its own history and populated it with fascinating, fleshed-out characters.
From the time you first encounter Harry in his spider-infested cupboard under the stairs, his best friends Ron and Hermione aboard the Hogwarts Express, and their classmates and the faculty at Hogwarts in the bright, colorful, relatively carefree days of Sorcerer's Stone, you can't help but become attached to them. You watch them grow up in Chamber of Secrets and Prisoner of Azkaban, struggle with puberty and the inherent awkwardness in Goblet of Fire and Order of the Phoenix. And then, as the tale becomes almost overwhelmingly dark during Half-Blood Prince and Deathly Hallows, you fret for these characters' safety and your heart aches to lose some of them.
If you haven't read this series, you're missing out. They are not to be dismissed as simple children's books. They are filled with action, suspense, mystery, horror, romance, comedy, and tragedy, and people of all ages can enjoy them.
The Art of Racing in the Rain by Garth Stein (Audiobook)
If you're anything like me, you've had full-blown, back-and-forth, soul-searching conversations with your dog. In which case, you'll be perfectly at ease listening to Racing in the Rain as narrated by Enzo, an amiable, highly intelligent mutt owned by a talented young race car driver named Denny.
Enzo loves his master so much, he's reluctant at first to welcome Denny's girlfriend Eve into their lives, but once Denny and Eve are married and their baby daughter Zoe arrives on the scene, the four of them become a happy little family. The main struggle of the story begins when Eve develops cancer and complications arise that could rend their family apart.
I actually listened to the audiobook version of this novel, read by Christopher Evan Welch, who does a marvelous job of portraying the charismatic canine Enzo, so I can wholeheartedly endorse that version. However, be forewarned: You will cry. You will sob and blubber uncontrollably at the end. I'm not ashamed to say I did.
Saints at the River by Ron Rash
This novel starts out on a tragic note. A 12-year-old girl wades into the middle of the Tamassee River, gets sucked under by the current, and drowns. Her corpse is trapped in an eddy underneath a powerful waterfall. Her distraught parents want to remove her body from the river and give her a proper burial, but the only safe way for divers to retrieve the body is to set up a temporary dam upriver and divert some of the water.
A group of hardcore environmentalists refuse to let this happen. The temporary dam would have to be secured by drilling into the Tamassee's bedrock, which would violate the Wild and Scenic Rivers Act of 1978 and set a dangerous precedent that landscape developers would surely exploit.
Stuck in the middle of this heated debate is a newspaper photographer named Maggie Glenn who grew up on the river. Through Maggie's eyes, the author does a brilliant job of showing both sides of the story. Just when you think you have your mind made up one way, he makes a compelling argument for the other. The writing throughout is superb, particularly Rash's descriptions of the natural setting, which are poetic.
The Thousand Autumns of Jacob de Zoet by David Mitchell
Finally, I had to mention something by Mitchell. He's my favorite author, bar none, and I've read just about everything he's published. Each of his books is wildly different from the one that preceded it, and if you've read either Ghostwritten,/em> or Cloud Atlas(which was recently adapted into a major motion picture starring Tom Hanks and Halle Berry), you'll know that even parts of the same book can diverge with abandon, bouncing from narrator to narrator, continent to continent, era to era. It almost seems like Mitchell is pushing his prodigious imagination to its very limits. You never know where he's going to take you next.
Jacob de Zoet is one of his most straightforward stories, so it might be a good one to begin with. It's set in 1799, in the Dutch trading colony of Dejima, located in Nagasaki harbor, and concerns forbidden love between a Dutch clerk named Jacob and a Japanese midwife named Orito.
There's also a whole cast of sneaky Dutch tradesmen, corrupt Japanese politicians, and a sinister mountain cult involved. There is a fair share of adventure to be had, some unexpected twists and turns. I would recommend Jacob de Zoet for Mitchell's gift with beautiful prose alone. Heck, I'd recommend anything this guy writes. His newest novel, The Bone Clocks, will hit bookstores early this fall and I'm so excited to snatch it up!