More Books We Like
Need a New Author?
Get printable versions of these lists by clicking on the list name.
Books We Like
Published 12/10/2014 by Laura Weigand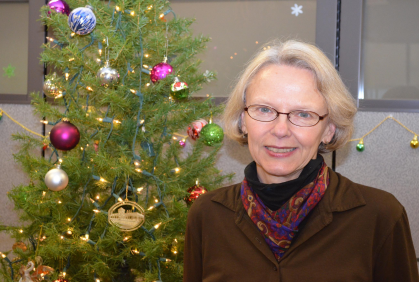 When asked to provide book reviews for December, I jumped at the opportunity to contribute because it's my last chance to do so. After over 33 years with the public library, I will retire on December 31st and I couldn't resist saying goodbye. To begin with, I'd like to give a short list of my favorite books. The list contains youth and adult materials and does not include any big surprises; they are simply my all time favorite reads.
Where the Wild Things Are by Maurice Sendak: Seminal work on the emotional life of a child.
Dominic by William Steig: Adventure rich read-aloud chapter book with a talking dog and great life lessons.
The Catcher in the Rye by J.D. Salinger: Holden's irreverence and persistent why are the building blocks of adolescence.
To Kill a Mockingbird by Harper Lee: Because of Atticus Finch's moral compass and Scout's will.
The Secret Life of Bees by Sue Monk Kidd: A coming of age novel that illuminates found families and strong role models.
Water for Elephants by Sara Gruen: Mouthwatering storytelling and to date, the most satisfying book ending of all times.
Driftless by David Rhodes: The one novel I want everyone to read, a study and celebration of the golden thread linking all living things.
Fourth of July Creek by Smith Henderson: A new author, gritty and gratifying, with characters so well developed you start talking to them.
These titles all portray tenacious characters on a redemptive quest and I believe in many ways this description fits us all.
As I think about farewell comments, I'm led to look back over the years at my many incarnations with the library: being hired as a children's librarian in 1981 for the Central Library Children's Room (and I've always been a children's librarian at heart), then working as a library manager at Lewisville, Kernersville, Thruway, Central Library Children's Room, Reynolda and finally for the last four years, choosing all adult books for all libraries. (I've tried not letting the weightiness of this responsibility keep me awake at night.)
This work history is not meant to be about me, but rather about you. My varied career has been a gift which, when unwrapped, includes the many readers and library supporters all over our county that I've gotten to know. You love to sit cross-legged on the floor and sing and clap and learn about Wild Things. You love ideas. You love talking about plot twists and book characters. You love the Hokie Pokie and the Tooty Ta. You love discovering library services you can use at home in your PJs. You love to volunteer. You love reading that satisfies guilty pleasures and earnest pursuits. You love learning about the new Jack Reacher, Kinsey Millhone, Dave Robicheaux, Becky Bloomwood, Walt Longmire, Alex Cross, Joe Pike, Maisie Dobbs, Alex Delaware, Easy Rawlins, Stephanie Plum,...to name a few. You love finding all these things in one place: storytellers, tech geeks, reading gurus, answer sleuths, diversity, computers, authors, art galleries, your family tree, idea and information rich events… and I'm sure you can add to this list.
The public library is a place where curiosity is good company to bring with you when you cross the threshold, open for a discovery that can be a tangible experience or a private epiphany. I'm not sure what other profession I could have entered that would have taught me more about the family of man or shown me in so many different ways that we all want the same things: knowledge, communion, joy and respect. I'm most grateful to have known so many of you; and I hope I will continue to see you at the library.