More Books We Like
Need a New Author?
Get printable versions of these lists by clicking on the list name.
Books We Like
Published 9/8/2014 by Tom Wells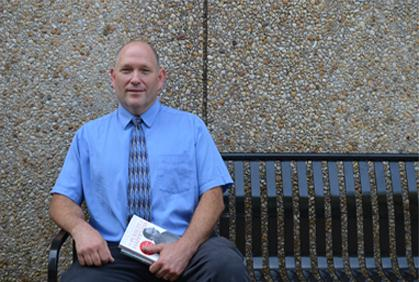 When I was asked to write another "Books we like" column I was thrilled! As I have mentioned previously, I love to read books from all time periods and genres, and I love to talk about books, recommend titles and authors and learn about new authors to try. One of my earliest memories is being read to by my Mom or older brother, and it is my opinion that any book worth reading should be shared either by reading aloud or by recommending and making the book available to them. If you haven't had the privilege of being read to, it's not too late. An audiobook read by an excellent narrator is an experience not to be missed. Feel free to ask for recommendations if you are new to the world of audiobooks or would just like to talk about books in general.
I've decided to talk about some of my favorite historical fiction authors, titles and series. My first introduction to historical fiction was The Scottish Chiefs by Jane Porter. At age 6 or 7 this was an amazing journey that was to be repeated several times through the years and set my sights on similar themes and topics in the years to come. ,The Scottish Chiefs was a breathtakingly beautiful romanticized version of the life of William Wallace. Full of adventure, suspense, heroic actions, and honor (something lacking in many stories of today). I highly recommend this book to readers of all ages and men and women alike. After reading this book, I read nearly every book of Scottish historical fiction (and nonfiction) I could get my hands on, especially ones about William Wallace and Robert Bruce.
One of my recent and most favorite authors of Scottish historical fiction (with a twist) is Diana Gabaldon. Her Outlander series tells the adventures of Claire Randall, a World War II era English nurse. While on a sort of second honeymoon with her husband Frank Randall, in the Scottish Highlands after the war, Claire visits the Standing Stones at Craig na Dun and while gathering herbs and wildflowers steps through two of the stones and disappears. She reappears to her horror and dawning apprehension 200 years earlier in the middle of the Scottish Uprising of the 1740s. Her story, an amazing adventure and romance with one small caveat (her knowledge of the future) is basically Scottish historical fiction set in the Scottish Highlands during the Uprising, and continues in Paris, the West Indies, and eventually the American colonies (specifically North Carolina between Wilmington and High Point) before, during and after the American Revolution. This series, beginning with Outlander and continuing with Dragonfly in Amber, Voyager, Drums of Autumn, Fiery Cross, A Breath of Snow and Ashes, An Echo in the Bone, and most recently Written in my Own Heart's Blood, are some of the most amazing books you will ever read.
Once in a while I'll read a book that I enjoy so much I don't want it to end. Never before has that been true of every book in a series. My only complaint to the author is that we have to wait so long in between books. The author has appeased her readers' insatiable appetite for "all things Outlander" by creating a TV series based on her books on the STARZ network. She is covering the first book in 16 episodes and plans to do them all. I've watched the first episode and although the cast may not be exactly as envisioned by her readers, it is amazingly close to the book and a true pleasure for any fan of the series.
In addition to reading most of the classics at an early age, I was also introduced to the historical fiction of Zane Grey and Louis L'Amour. Most of these were western or early English or American history novels, but one of my all time favorites is The Walking Drum by Louis L'Amour. This is a novel of epic proportions set in the days of the Crusades. It is the heroic tale of a young man, Mathurin Kerbouchard, son of a famous corsair, trained by his mother's family in the secret Druidic traditions. Blessed with a fantastic memory and an amazing aptitude for language learning, Kerbouchard embarks on a fantastic journey of discovery, knowledge, romance, and adventure, learning and growing from whatever obstacles he encounters, his ultimate goal is to discover whether his father still lives, and if he does to rescue him.
His quest takes him from the amazingly literate Arab world of that day(1060's A.D.) where the city of Cordoba had at one time at least 90 public libraries. Scholars and scholarship were highly revered and learning of all kinds was encouraged across the cities of Europe and Asia with merchant caravans, and on across the far Steppes to deadly encounters with Mongol horsemen and beyond to Kiev, Constantinople and the Byzantine empire. This is one of L'Amour's finest works, it was brilliantly researched and is historically accurate. You'll learn more in a fun way from this book than in a whole year of "History of Western Civilization" in college.
From the adventure stories of L'Amour I went on to explore historical fiction adventure and war stories from every era, with my favorite periods being the Scottish wars, the Napoleonic wars, the American Revolution, Civil War, and both World Wars. I have a special interest in naval fiction of all time periods. Some of my favorite naval fiction writers are C.S. Forester's Horatio Hornblower novels, Patrick Obrian's Aubrey and Maturin novels, Dewey Lambdin's Alan Lewrie Adventures, Alexander Kent's Bolitho novels, James L. Nelson's Isaac Biddlecomb novels, Douglas Reeman's submarine stories, and World War II adventure stories by Alistair Maclean and Jack Higgins.
I'll be glad to discuss historical fiction writers and stories with anyone at any time. As the guys at "Books for Dudes" (our laid back book club for men) will attest, I usually share at least one book from that genre at every meeting. Thanks for the opportunity to share with you.