More Books We Like
Need a New Author?
Get printable versions of these lists by clicking on the list name.
Books We Like
Published 10/8/2014 by Becky Proie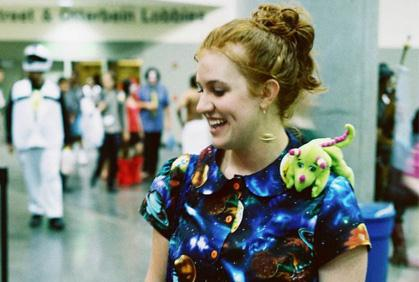 October means it's Halloween season! And Halloween season means things start to get pretty scary, even in the children's section. As the Youth Services Librarian at the Reynolda Manor Branch Library, I quickly realized that my patrons kept asking for scary books even before Halloween decorations hit the shelves. Being a big wuss, I didn't have a lot of personal suggestions in my back pocket and had to rely on spooky books that I knew had been well reviewed or those that seemed to have a lot of buzz about them. Writing this month's Books We Like article inspired me to be brave and expand my horizons. Here's how it went:
Picture books can be scary, too! It's exactly why Where the Wild Things Are by Maurice Sendak was, and still is, a challenged book. For a more modern scare, check out Aaron Reynolds' Creepy Carrots! I mean, come on, is anything really more horrifying than vegetables? This Caldecott Honor recipient is beautifully drawn in shades of black and white… except for the orange carrots. Jasper the Rabbit loves to eat carrots, but then they start to follow him. At least he thinks they're following him. That carrot may actually just be an orange bucket, or some orange flowers, or a few scattered pop bottles (is my Pittsburgh showing yet?). After too much paranoia, Jasper just can't take it anymore! How will he solve the case of the creepy carrots? How will the carrots react to his plan? I'll let you figure that out for yourself. But trust me, this is one of the best spooky reads that you won't find in the holiday section.
You're not a little kid anymore? You're looking for a chapter book to scare your friends with at recess? Well, let me tell you about Adam Gidwitz's Grimm series. Today's fairy tales are all about singing and magic and sparkly princess dresses, and that's great, but the old school fairy tales were much, much darker. The fairy tales that the Grimm Brothers told were filled with blood and knives and the occasional chopped off finger. Adam Gidwitz likes those versions. In his first book, A Tale Dark and Grimm, he weaves a story about Hansel and Gretel in with some fairy tale stories you'll recognize and some that are a bit more obscure. It easily lulls you into a false sense of security with story elements that you're comfortable with (leaving bread crumbs to find your way home) and then squashes it completely with a horrific plot twist (pulling souls out of people in the form of a white dove). It's really quite fantastic. I particularly love it because I know I never would have enjoyed it as a child. A Tale Dark and Grimm is followed by In a Glass Grimmly and The Grimm Conclusion. Each book follows the story of two different classic fairy tale characters, so they're not so much sequels as they are companion books. No matter what you call them, you'll still need to sleep with the light on and all fingers and toes under the covers. I repeat, ALL fingers and toes.
Now a scary young adult novel can actually get pretty scary. I had to actively seek out something that sounded enjoyable enough that I could make myself handle the scare tactics that would come with it. Anna Dressed in Blood by Kendare Blake was the perfect choice. Do people even know about Buffy the Vampire Slayer anymore? If they do, they'll see the connection with this novel as the main character, Cas, travels around killing killer ghosts. Yes, murderous ghosts need to be essentially re-killed and sent off to, well, wherever they go. There's some extremely well placed gore with bodies being ripped in half, throats being slit, and even a couple bites taken out of people, but it's wonderfully offset with well placed humor. Cas and his fellow ghostbusters (just don't call them that) have a manner of speech that is just perfect for a young adult novel: snarky and honest. And don't think Anna's not part of that mix. She may be dead, but she uses words as her weapon as much as she does her paranormal powers. This book may be a bit much for younger young adult readers, but I will passionately recommend it to the next teen who comes up to the circulation desk daring to ask me for a scary read. There's also a sequel, Girl of Nightmares, that I immediately put on my holds list. I hope it's in the same blood red text as Anna Dressed in Blood.