More Books We Like
Need a New Author?
Get printable versions of these lists by clicking on the list name.
Books We Like
Published 8/6/2012 by Billy King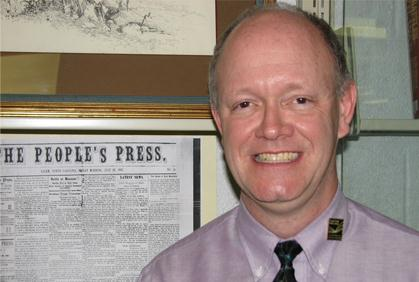 Mayberry 101 by Neal Bower
With the recent passing of the legendary Andy Griffith many commentators in North Carolina have called him the state's favorite son. Well people in these parts consider him the most favorite of favorite sons because his classic sitcom, The Andy Griffith Show, struck such a chord of familiarity. How can anyone from the Piedmont not hear Andy or Barney mention going to Mount Pilot and not feel a cozy sense of nostalgia? Andy and the gang are our neighbors. The show's 249 episodes spanned eight years and once it hit syndication it must have rivaled I Love Lucy in the number of times it aired
Wouldn't it be great to take a class on the show and learn more about how it was created from people who worked behind the scenes? Luckily one of its biggest fans has done that. Neal Brower has taught classes on The Andy Griffith Show at many community colleges around the state and his book, Mayberry 101, could serve as a text book.
Brower began his exploration of the show by writing a column in The Bullet, the official newsletter of The Andy Griffith Show Rerun Watchers Club where he would dissect and provide insights into the creation of particular episodes. In Mayberry 101 he continues this examination by interviewing actors and writers who remember how the stories came about.
In one example he looks at an Opie-centric episode from 1963, "Opie the Birdman" in which Opie accidentally kills a mother bird with his slingshot. Andy does not punish Opie but instead opens the bedroom window and lets him hear the baby birds chirping for food. As the writer says, "Physical punishment would have reduced the situation to a trite two-party standoff…It is far more interesting that Opie has to be his own punisher and Andy is the enlightener." Opie goes on to feed the babies and protect them in a cage until they are big enough to fly away. Learning to let them go is another lesson the boy learns with the help of his pa.
In this essay we also learn that attention to detail, like the real food prepared for a dinner scene, and a breeze fluttering a curtain added to the quality of the show. Brower's enthusiasm for Mayberry, its wise and noble sheriff and its collection of characters is contagious, and living so close to the source of inspiration just adds to the fun. We'll miss you Andy.
Old Salem and Salem College by Molly Grogan Rawls
This edition of Arcadia Publishing's Post Card History Series is not Rawls's first pictorial history of the area. It is not even her first book of historic postcards of Winston-Salem. An avid postcard collector and the photograph librarian in the library's North Carolina Room, Rawls has published three other well researched and informative collections of historic images: Winston-Salem in Vintage Postcards; Winston-Salem: From the Collection of Frank B. Jones, Jr. and Then and Now: Winston-Salem.
Each of these guides brings the history of our community alive with expertly selected photographs and postcards that reflect the development of both Salem and Winston from the 19th century through the boom years of the early 20th century and beyond. Many long demolished buildings such as the Robert E. Lee and Zinzandorf Hotels, places that once dominated the downtown scene, are preserved through images in these books. Rawl's descriptive captions always reveal a dedication to facts as well as a native's sense of why these people and places matter to our heritage.
Old Salem and Salem College, Rawls's most recent work, focuses on the town of Salem that was established in 1766 and the academy and college that were formed in 1772. Postcards from her collection and many others gathered from local institutions and other collectors are organized to tell their stories. Just one of the many postcards depicts Main and South Halls on the campus. Its descriptive caption notes that "Salem College still occupies these buildings as the oldest continuing educational institution for women in its original location in the United States." Similarly, postcards of Old Salem recount the preservation efforts that span over a half century and have created a living museum of our community's past.
The Beginner's Goodbye by Anne Tyler
North Carolina likes to claim Anne Tyler as one of its own because she grew up in Raleigh and went to college here but most of her 19 novels have been set in her adopted city of Baltimore. In The Beginner's Goodbye she once again crafts a tale of Baltimore citizens and their gentle and sometimes quirky paths to happiness or something close to it. At the center of the novel is Aaron Woolcott, a publisher of easy-to-follow manuals on any topic you can name (The Beginners Book of Kitchen Repair, etc.) who must find a way to cope with the sudden death of his wife, Dorothy.
It has been almost a year since the accident but now she is showing up by his side with no warning. Is she a ghost? Is Aaron losing it? In typical Anne Tyler fashion, her main character takes this phenomenon in stride and tries to rationalize that, like a do-it-yourself manual, his wife's appearances will eventually explain everything.
Along Aaron's journey we meet endearing characters like his domineering but well-meaning sister, Nandina, and his hyper-positive secretary, Peggy. Like many of the women in his life Peggy and Nandina just want to help him. Aaron became ill as a child and has been partially paralyzed on one side of his body ever since. He has always been determined to do things on his own and he fell in love with Dorothy because she refused to coddle him. A no-nonsense doctor who on their first meeting directly asks, "What's wrong with your arm?" she was to Aaron a refreshing kind of woman who would never smother. Now that she has died and yet is reappearing in his life Aaron begins to realize that sometimes she may have wanted to be of more help to him but he would not let her. In the end it seems that part of learning how to say goodbye is realizing the mistakes made along the way, forgiving yourself and not making them again.