More Books We Like
Need a New Author?
Get printable versions of these lists by clicking on the list name.
Books We Like
Published 9/7/2012 by Mara Lynn Newman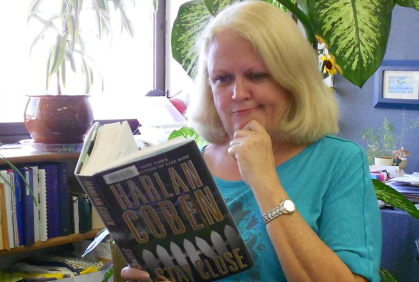 A lifelong book lover, I was stumped on which titles to recommend, so I chose a theme instead. What follows are escapist books/audiobooks/ebooks that take place in North Carolina, written by authors who apparently love our state… and automobiles… like me, and maybe you, too.
The Best of Me by Nicholas Sparks (2011)
Oriental, NC is the spot where Amanda and Dawson originally bonded over the open hoods of cars needing repair. Years later, a vintage Corvette in need of restoration — and the loss of a mentor to them both — brings them together. New "spark" plugs? We Southerners know all about embarrassing family members, but dangerous ones are at play in this story. Sparks fills in lots of detail about our thwarted lovers and wants us answer the question: "Can love truly rewrite the past?" It's a relationship rollercoaster ride that has enough twists and turns to keep you guessing all the way to the end. A ride in the Corvette makes all the difference.
The audiobook is narrated by Sean Pratt, whose vocal gifts bring life to Sparks' storytelling. Look for a future movie on this one, too. Safe Haven was recently filming in Southport and it will be the eighth Sparks movie, coming out next February (check IMDB.com for info). Sparks lives on the NC coast and his official website is www.nicholassparks.com.
Spring Fever by Mary Kay Andrews (2012)
This time a pivotal character is a candy-apple red 1972 Chevelle convertible. Annajane and Mason are brought together by Quixie, a cherry cola that's the biggest employer in fictional Passcoe, NC. They have to get past a great villainess in Celia and their families, which put the "fun" back in dysfunctional. Who nicknames a sister and best friend "Pokey"? The Chevelle is also a setting, affectionately known as "the fun car," and scenes in the book make you want to take a top-down ride along the Outer Banks while drinking cold cherry colas… or go parking at a lakeside remote spot to watch submarine races.
Hearsay is that Andrews' story was inspired by Cheerwine-flavored, cream-filled Krispy Kremes. We SO understand. If you ask me, Andrews specializes in smart, likeable, and fun-loving characters. You'll love Weezie in the Savannah books, and also Callahan from an earlier mystery series she wrote as Kathy Hogan Trocheck, her real name. Visit her website: marykayandrews.com.
Flash and Bones by Kathy Reichs (2011)
Temperance Brennan is back in Charlotte for this 14th series installment that takes place around Lowe's Motor Speedway. Every Race Week in Charlotte makes even a national convention look tame, and this fictional one is no exception. As she helps solve a related murder where a race car is the murder weapon (use your imagination until you check this out), a past conspiracy gets uncovered. Discover what the disappearance of racecar-driver wannabe Cindy and her boyfriend Cale really means. Tempe turbocharges her investigation to get to the bottom of a long-ago extremist plot and government cover-up that may involve the current murder and criminal activity.
Try this CSI story from the real deal; Dr. Reichs is a bonafide practicing forensic anthropologist (with seriously impressive credentials) and a professor at UNC-Charlotte. North Carolina is often the setting for her novels, but Reichs also takes her readers around the world, especially to Montreal. The television series "Bones" is about an earlier Tempe with Reichs as producer. Tempe's niece Tory is the main character in two young-adult titles, which are recommended for grown-ups, too. Dr. Reichs' official website is kathyreichs.com.
And if you have a racin' bone in your body, author Sharyn McCrumb writes about a Dale Earnhardt pilgrimage in St. Dale (2005) and more about the NASCAR lifestyle in Once Around the Track (2008) and Faster Pastor (2010). She writes about Appalachian Mountain people, places, and events, preserving them for us in story form. Try her Ballad series, too, and her newest, The Ballad of Tom Dooley (2011). McCrumb's website is www.sharynmccrumb.com.
As Daddy says, "Spin a wheel! Keep it between the white lines with the shiny side up." That advice goes back to a high-handlebar, banana-seat blue Huffy bicycle I called Herbie, my own Love Bug. And it's still good advice to this day.
If you want to download titles to listen to or read on an ereader, let us help you get started. Look for downloading classes and open help labs through the Computer Training Bridge. It's all FREE @ your Library! Check us out!