More Books We Like
Need a New Author?
Get printable versions of these lists by clicking on the list name.
Books That Make Great Gifts
Published 12/11/2012 by Laura Weigand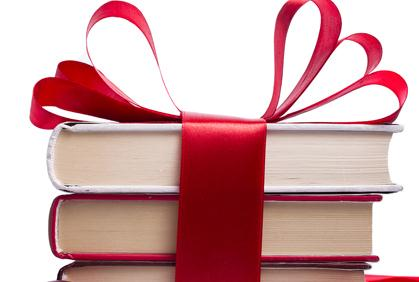 Give the gift that keeps on giving this holiday season. Books inform and delight us and they are "ready on demand," just waiting on your book shelf for your next free moment. With that in mind, here is a list of a few titles that could make great gifts for readers on your list this year.
Upstairs & Downstairs:The Illustrated Guide to the Real World of Downton Abbey by Sarah Warwick. This beautifully illustrated book takes readers on a guided tour of a single day in an upper-crust English home of the Edwardian era. Starting with the servants hard at work while the family is still abed, and culminating in a lavish dinner party, Upstairs & Downstairs lifts the curtain on this fascinating period, as well as its historical bookends, the Victorian and post-World War I eras. Includes accounts from actual masters and servants, along with feature spreads on famous figures like Winston Churchill and Virginia Woolf.
The Ultimate Super Bowl Book by Bob McGinn. The ultimate reference for the ultimate sports event, with year-by-year game recaps, stats, play-by-play summaries, photos, post-game analysis, and quotes from players and coaches.
The Biographical Dictionary of Popular Music: From Adele to Ziggy, the Real A to Z of Pop and Rock by Dylan Jones. Reference tome? Not so much. Great fun? Absolutely. This A to Z listing of more than 350 artists is basically one guy's take on the last century of music but since the guy in question is the award-winning editor of British GQ, we all win.
Young House Love by Sherry and John Petersik. This debut book by bloggers Sherry and John Petersik is filled with hundreds of fun, deceptively simple, budget-friendly ideas for sprucing up a home.
27 Views of Chapel Hill: A Southern Town in Prose and Poetry by Daniel Wallace. For the Tarheel fan in your home. This series also includes books on Asheville, Hillsborough, and Durham.
Monty Python's Flying Circus: Complete and Annotated by Luke Dempsey. A fan's treasury of every script and episode from the influential British comedy series is complemented by profiles of the famous troupe members, insider interviews, anecdotes, photographs, sketches and reproductions of Terry Gilliam's iconic artwork.