More Books We Like
Need a New Author?
Get printable versions of these lists by clicking on the list name.
Books We Like
Published 3/7/2014 by Jenny Boneno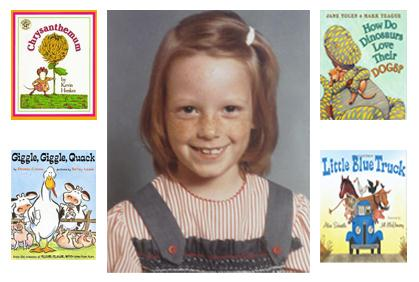 Customers often ask me, "What have you read lately? Anything good?" The truth is that, these days, with a four-year-old and an almost-two-year-old at home, I don't get a lot of time to read. I try, but when I finally have a chance to sit down and read at night, I make it through only a page or two before I fall asleep! So here are a few titles that I really can recommend. We read most of them nightly at my house.
Chrysanthemum by Kevin Henkes— Chrysanthemum loves her name. She loves that she was named for a beautiful flower and loves how her name sounds. That is, until she starts kindergarten and the other children tease her for having such a "weird" name. Over time, and with the help of a sympathetic music teacher, Chrysanthemum learns the value of being an original.
Kevin Henkes's funny and poignant books delve into children's issues like security blankets, siblings, making friends and getting in trouble at school.
Duckling Gets a Cookie by Mo Willems—Pigeon really wants a cookie and wants to know how duckling suddenly has a delicious chocolate chip cookie and learns a lesson in politeness. Any Mo Willems book is a winner. His familiar characters; pigeon, duckling, pig, and elephant always make my four-year-old laugh.
How Does a Dinosaur Love His Dog? by Jane Yolen—Jane Yolen uses dinosaurs to show children how to do various things like go to bed, take care of a pet or go to school. The realistic drawings of the various dinosaurs in preposterous positions (riding a tricycle) are sure to make little lovers of dinosaurs take notice.
Little Blue Truck by Alice Schertle—The little blue truck is friendly to all of the animals as he drives by, greeting them with a friendly, "beep, beep, beep!" When a big, mean, dump truck runs off the road, Little Blue may be the only one willing to help. The rhythm and rhyme of Little Blue Truck makes it a fun and often-requested read.
Giggle, Giggle, Quack by Doreen Cronin—Duck is pretty smart. So smart that when Farmer Brown goes on vacation, Duck has the farm-sitter, Bob, doing all kinds of silly things. Cronin has written several entertaining books about Duck and his buddies on the farm.