More Books We Like
Need a New Author?
Get printable versions of these lists by clicking on the list name.
Books We Like
Published 5/8/2014 by Rob Norwood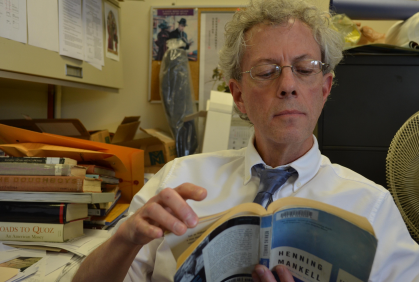 I enjoy reading crime mysteries. I also enjoy books by foreign authors. Here are some crime mystery series that I've read, written by authors from the United Kingdom, Norway and Sweden.
Peter Lovesey has written a series of thirteen books set in Bath, England featuring the rotund Detective Peter Diamond. Diamond is not savvy with modern technology. His sense of humor is often misunderstood and he tends to rub his co-workers the wrong way, but his old fashioned "gum-shoe" technique and deductive skills have gotten him to his position as head of the Murder Squad.
The Last Detective is the first in the series. It is filled with interesting characters and plot twists. A former soap opera star's body is found floating in a lake. We learn that she had previously tried to kill her husband, a college professor who might have come into possession of some authentic letters written by Jane Austen, which have since been stolen. The professor had recently gained some local fame for saving a young boy from drowning, and now the professor might be involved with the boy's mother. Did the boy's mother kill the soap star? Did the professor kill his wife? Why did the soap star try to kill her husband? And who stole the Jane Austen letters? All these questions are answered and when the actual killer is revealed it is a real surprise.
Near the end ofThe Last Detective, Diamond is falsely accused of brutality and he resigns. The second book in the series, Diamond Solitaire, finds him solving a crime entirely on his own. In the third book, The Summons, he is reinstated as head of the Murder Squad in spite of the lingering animosity between himself and his superiors. They hate to admit it, but Detective Diamond is good at his job and they need him. Some recurring characters in the series are Detective Julie Hargreaves, a reliable colleague, and Diamond's wife Stephanie, who seems to possess unlimited patience.
Karin Fossum is the Norwegian author of the Inspector Konrad Sejer novels. There are currently nine books in this series, which take place in and around Oslo. If you want to read the series in the correct order, pay attention to the original copyright dates, since the English translations were not published in the same order as the books were written.
Eva's Eye is the first book of the series. Eva Magnus is a struggling artist with a young daughter. Eva has some difficulty making ends meet, but her artistic integrity won't let her compromise her work. By chance she reconnects with childhood friend Maja Durbin after many years of separation. Her friend's life is quite unlike her own- Maja is a self-employed prostitute who has accumulated a small fortune. In order to avoid any questions about where her money came from, she has kept it all in cash and hidden it in her cabin in the woods. Then unexpectedly Eva witnesses her friend being murdered. Although shocked by the murder and death of her friend, she soon realizes she could help herself to the money. Maja had told her that she had not written a will. But first Eva must find this remote cabin, and then find the hidden money. While searching the cabin in the middle of the night, she frantically hides because someone else has broken in and is also searching for something. When she is able to escape she runs for her life through the unfamiliar woods.
Another murder committed in this same small community and around the same time was a mild mannered factory worker, Egil Einarsson. His only interests outside of his work were his wife and son, his few drinking buddies, and his car which he has kept in good repair. Egil goes out one night to meet someone who wants to buy his car, which seems odd to his wife since he loved the car so much. He never returns. Inspector Sejer follows all leads investigating the deaths of these two people who didn't know each other. He realizes a connection between the two murders when he discovers that the woman who was interested in purchasing the car was the artist Eva Magnus.
Fossum conveys sympathy for all the characters, and they are clearly drawn. Inspector Sejer is a middle-aged man who is recently widowed. He is thoughtful and patient, and respected by his fellow detectives. We also come to know and understand the victims and the killers.
The second book in the series, Don't Look Back, is more complex than the first book. Annie Holland, an independent and well-liked teenage girl, is found dead. In this small community where everybody knows everyone, the investigative trail leads in many directions. Annie baby-sat for many of the children in her neighborhood, but had suddenly lost interest in that. Her overall mood had changed. She had recently quit the handball team, and it is discovered that her handball coach has a criminal past. Her stepsister's father is filled with bitterness directed towards this family. Her somewhat older boyfriend is clearly hiding something. Inspector Sejer and his colleagues interview everyone and carefully put the pieces together.
Swedish author Henning Mankell has written a series of eleven books that feature Inspector Kurt Wallander. Throughout all the novels, Wallander is often discouraged by the changes he sees in Swedish society. In a country once filled with decent and traditional citizens, he is now confronted with vicious crimes and influences from outside Sweden.
In the first book, Faceless Killers, an elderly couple is brutally murdered in their remote farmhouse, and the only clue is the final word spoken by the woman: "foreign." Later, a murder is committed at a refugee camp. Are the murders committed by the same person? Do they have something to do with the anti-immigrant sentiment in the country? In the second book of the series, The Dogs of Riga, Wallander is involved in an investigation that takes him to Latvia. He is disoriented and paranoid in this country, so close to Sweden but so very different. Here he begins a relationship with a Latvian woman that lasts through several of the books. The third book, The White Lioness, begins with a random murder of a woman in the wrong place at the wrong time, and the investigation leads to an assassination conspiracy in South Africa.
As the stories progress we come to know Kurt Wallander quite well. His job occupies his thoughts most of the time, and his personal life sometimes suffers. He has an ex-wife, and a daughter trying to decide what to do with her life. His cantankerous father lives in a nearby town. Wallander sometimes drinks too much, and often he can't sleep. He makes mistakes, but ultimately he's able to piece together the clues of each investigation.
The books in the Wallander series are set in the southern tip of Sweden. While many of the books do involve other countries, Mankell describes the terrain and weather of this region of Sweden in a way that grounds the stories in their location. Some of the books contain maps of southern Sweden, with the small towns and roads that are part of the stories. This series of books was adapted for television and aired on PBS, starring Kenneth Branagh as Detective Kurt Wallander.