More Books We Like
Need a New Author?
Get printable versions of these lists by clicking on the list name.
Books We Like
Published 7/8/2014 by Janis Fox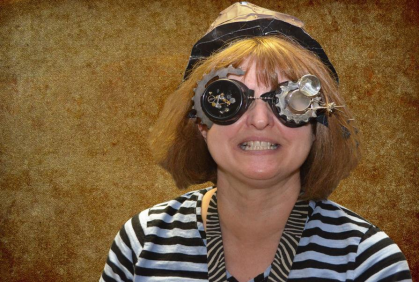 There's no better time than now to be reading Young Adult books. The name Young Adult (or "Teen") merely describes the typical ages of the main characters and the target audience, but these books are read by everyone from ages 10 (or so) on up. One of the joys of YA literature is that teens--and we adults--can relate to that confusing, amazing time in life (while the younger kids dream about it!). I've shared many wonderful YA books with both my teenage daughter and my senior mom, so I'm very pleased to share some of my favorites with you.
My current favorite series is The Lunar Chronicles by Marissa Meyer. It's a mix of fantasy, fairy tale, science fiction, and dystopia. It's hard enough for Cinder to be a cyborg with ill-fitting mechanical parts, but the hatred of her stepmother--and society in general toward cyborgs--keeps her from having much hope, especially when the world is suffering from both a worldwide plague and the pressures from the Lunar queen, who is determined to marry the prince on her quest to conquer Earth. Then one day while working in her repair shop, Cinder is hired by Prince Kai to fix his android, and she learns more about the queen's plans--and about herself--than she could ever imagine. Three books are out now (Cinder, Scarlet, and Cress), each based on a well-known fairy tale. The final two titles will be out next year. It's a lot of fun to see how Meyer fits together the well-known elements of each fairy tale in a completely new story.
Having been a history major in college, I've always enjoyed historical fiction. Therefore, I have a special place in my heart for steampunk--a mix of history and science fiction set in the time of steam locomotives--typically either the Victorian/Edwardian era or the American Wild West). My favorite steampunk books are in The Leviathan Trilogy by Scott Westerfeld. In this alternate history of World War I, Prince Alek is the son of the assassinated Archduke Franz Ferdinand. When his parents are killed and he becomes a possible target, he escapes Austria-Hungary in his mechanical walking machine. War is imminent and the sides are drawn: Clankers (those who favor mechanized war machines) against Darwinists (who have created new animals for battles and research). When Alek sees a Darwinist whale airship stranded over Germany, he decides to help the crew, thus setting off an unexpected meeting of possible enemies and one airman hiding a secret. The titles in the series are Leviathan, Behemoth, and Goliath. Don't miss the wonderful illustrations by Keith Thompson--they became so popular that a fourth book, The Manual of Aeronautics, was released to share more images and details.
Books in a series are always fun because we get to know the characters. However, there are plenty of standalone titles worth reading. You may have heard of Marcus Zusak's The Book Thief, which has been made into a movie. Personally, I prefer another of his books, I Am the Messenger. Ed Kennedy is a 19-year-old working as a cab driver in Australia. He has no ambition to do more than just get by, spending his off hours playing cards and drinking with his similarly-inclined buddies. Then one day he unexpectedly thwarts a robbery. After that brief moment of heroics, he begins receiving anonymously individual playing cards that lead him to names and places he'd never known. Each is a clue, and each involves him more and more. It's an incredible book of growth and awareness. Zusak won this years Edwards Award for his contributions to Young Adult literature.
There are some authors who consistently write incredible young adult novels. John Green, author of The Fault in Our Stars, is one of them. Another is Libba Bray. She writes in a variety of genres. I first became familiar with her work through her historical fiction Gemma Doyle trilogy. My favorite of her books, so far, is Going Bovine, which I did not at all expect I'd like. 16-year-old Cameron is diagnosed with mad cow disease after a series of outbursts at school. In the hospital, he is visited by the most unusual angel ever, and heads out with his sickbed roommate and a garden gnome on a most unexpected trip. I went from absolutely despising self-centered Cameron to becoming a loyal supporter as he endeavors to find a cure before it's too late. Going Bovine won the Printz Award for young adult fiction.
I love books that explore unique ideas. In The Wake Trilogy by Lisa McMann, Janie has been drawn into the dreams of others--from snoozing classmates at school to her drunken mother. Too often she can predict the dreams, while others are downright scary. Despite her own lack of sleep, Janie is a good student and determined to break away from her bleak surroundings. She works hard at her job at a local nursing home. It is there that she meets an elderly patient in need of Janie's help, and discovers that her curse can also be a blessing, although with a price to pay. The books in the series are Wake, Fade, and Gone.
Another series that absolutely grabbed me with its implications was the Chaos Walking Trilogy by Patrick Ness. Todd is the youngest boy in his town, one of the communities in the New World that was settled by religious pilgrims from Earth. Prentisstown, named for its mayor, no longer has any women or girls. What it does have is The Noise--every man and boy can hear the constant thoughts of every other member of the community, and even of the animals. It's just one month from Todd's manhood celebration, and now Todd must suddenly flee from town. How can he escape, when the entire town will be looking for--and listening for--him? What he stumbles upon in the forest changes his outlook on the only life he's ever known. The books in this series are The Knife of Never Letting Go, The Ask and the Answer, and Monsters of Men. I had to read each book in quick succession more than most series as the action is truly nonstop.
Almost every day I'm learning that yet another young adult novel or series is being purchased for possible movies. If you want to read the book before the movie, don't wait until the movie is announced. Just head over to the Teen area of your local library branch and start reading.