This report will be updated by 3:30 pm each business day.
Tuesday, October 3, 2023
7
25
27
Trees
Low
Grasses
Low
Weeds
Moderate
Pollen Rating:

Moderate

Predominant Type:

Weeds
Observed Pollen Data
Pollen
Rating
Rating Scale
(PRS)
Density
(grains/m3)
Trees
Low
7
4
Grasses
Low
25
4
Weeds
Moderate
27
12
Discussion:
Weed pollen remained MODERATE today with 53% of the total weed pollen count being ragweed. Grass pollen decreased slightly today only reaching the upper end of the LOW range. Tree pollen was LOW again today. The only tree pollen type observed today was Lacebark elm. This pattern is expected to continue for the next three days as weather conditions are forecast to remain relatively steady. Weed pollen should remain MODERATE through Friday with grass pollen LOW. Tree pollen will remain LOW – mostly Lacebark elm. (Russ)
Pollen Forecast (Pollen Rating Scale - PRS)
Wednesday
10/4/2023
Thursday
10/5/2023
Friday
10/6/2023
Saturday
10/7/2023
Trees
7
3
3
0
Grasses
17
17
9
0
Weeds
26
26
26
0
Pollen Rating Scale (PRS) Guide
When PRS Values are equal to:
0 Absent
Allergy sufferers with sensitivity to this group of pollens should not experience symptoms.
1-25 Low
Only individuals extremely sensitive to aeroallergens of this type will experience symptoms.
26-50 Moderate
Many individuals sensitive to aeroallergens in this group will experience symptoms.
51-75 High
Most individuals with any sensitivity to this group of aeroallergens will experience symptoms.
≥76 Very High
Almost all individuals with any sensitivity to these aeroallergens will experience symptoms. Extremely sensitive people could have severe symptoms.
PRS related to Pollen Density (grains per cubic meter)
Rating
PRS
Trees
Density
Grasses
Density
Weeds
Density
Absent
0
0
0
0
Low
1-25
1-14
1-4
1-9
Moderate
26-50
15-89
5-19
10-49
High
51-75
90-1499
20-199
50-499
Very High
>=76
>=1500
>=200
>=500
These pollen density ranges are based upon the NAB Scale ranges suggested by the National Allergy Bureau (NAB) of the American Academy of Allergy, Asthma & Immunology (AAAAI).
---
For more information contact:
Analysis and Monitoring Division, Pollen Monitoring Program
by telephone: (336) 703-2440
or email us.
Measuring and Forecasting Local Pollen Levels
Every weekday during our local pollen season, our Office measures the concentration of pollen grains in the air. Our "Rotorod" pollen sampler is located at the Forsyth County Government Center building in downtown Winston-Salem. Our pollen specialists use a microscope to identify and count the pollen grains collected by the pollen sampler.
We provide separate pollen counts and forecasts for tree, grass and weed pollen. For each of these pollen types, the measured and forecast pollen counts are categorized as being either ABSENT, LOW, MODERATE, HIGH or VERY HIGH on our 100 point Pollen Rating Scale (PRS Scale). The actual measured pollen concentration or pollen density is also reported as a certain number of pollen grains per cubic meter of air (grains/m3).
Daily weather can strongly influence pollen levels. On days that are hot, dry and windy, pollen is dispersed in greater quantities and stays suspended in the air longer. This increases the suffering of those allergic to the pollen. Rainy and windless days tend to lessen the pollen distribution in the air and lessen the effect of pollen on human health. Cold temperatures and frost also inhibit pollen production. Our pollen forecasts are based on local weather forecasts combined with the pollination activity of local plants.
Our pollen reports are posted each weekday afternoon on this website. The pollen reports are also posted on Facebook and Twitter:
Our Typical Pollen Season
Our local pollen season normally begins when cedar first appears in response to warming temperatures in February. Oak pollen peaks in April, resulting in the highest pollen densities of the year. Maple, pine and birch pollen are also plentiful during our tree pollen season which ends in early June. Grass pollen is most prominent in May and continues into September. Weed pollen quantities increase throughout May and into June. During July, overall pollen levels are usually low. Ragweed pollen is very significant from late August through mid-September. The first hard frost of autumn typically brings our pollen season to a close in late October. These trends can be seen in the graph below.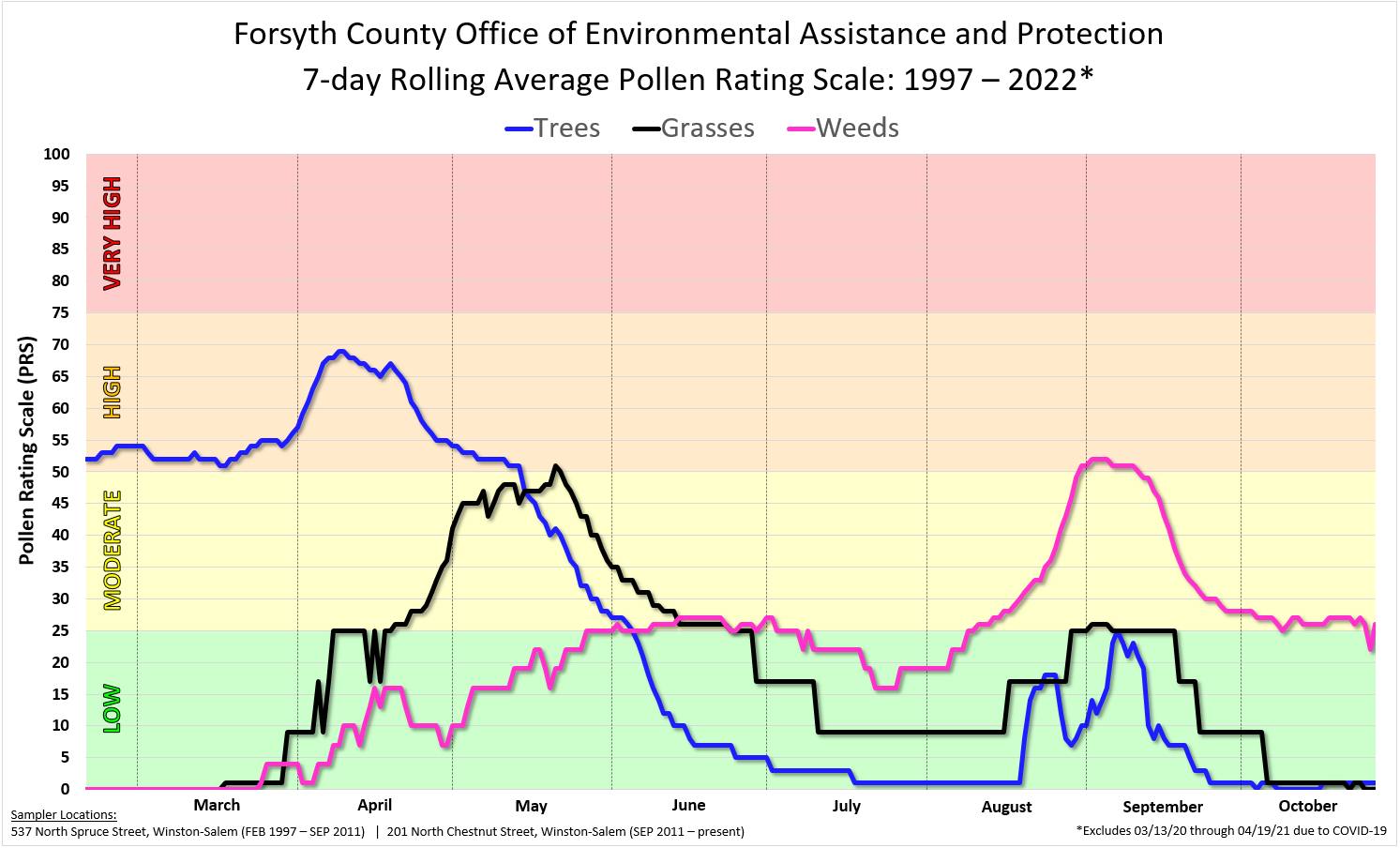 For more detailed information about pollen and our pollen program, please read our Pollen Brochure.
For more information contact:
Analysis and Monitoring Division, Pollen Monitoring Program
by telephone: (336) 703-2440
or email us.
Trees, grasses and weeds produce pollen as part of the natural process that leads to new seed production.
Plants that disperse their pollen by wind typically have small, inconspicuous flowers, shaped to maximize the release of pollen into the air. It is this airborne pollen that causes allergy sufferers discomfort as it comes in contact with noses, throats, and eyes.
The pollen from colorful showy flowers like tulips and roses is typically too heavy and sticky to be carried well by the wind. Much of this pollen is spread from flower to flower by bees and other insects. Pollen from these types of flowers do not cause most pollen-related suffering.
Follow these tips to minimize your pollen allergy symptoms:
Stay indoors when pollen counts are high or on dry breezy days when pollen is easily carried by the wind.
Keep car windows closed when driving.
Keep windows in your home closed and use air conditioning to filter indoor air.
Do not hang sheets or other laundry outside to dry because this will allow pollen to accumulate on the fabric.
Avoid mowing lawns because it can stir up pollen. If you must mow, wear an air filter mask over your mouth and nose.
If you do have been outside when pollen levels are bothersome, bath and wash your hair before going to bed to avoid adding pollen to your bed sheets and pillow.
Remember that pollen can accumulate on pet fur and your own clothing and be carried inside your home. The frequent washing of pets and clothing can help reduce your indoor pollen exposure.
Discuss your allergy concerns and symptoms with your doctor to learn what medical treatments may be most appropriate for your individual allergy problems.
Take a closer look at what might make you sneeze! Our Pollen Photo Gallery takes you into the microscopic world of pollen.
The following images are from our daily pollen samples in Forsyth County. The photographs were taken using a digital camera mounted on a microscope. There is a picture of pollen from our most recent pollen sample as well as a gallery of some of our best pollen images. Our best Pollen Pix represent excellent images of local pollen types from various seasons of the year. In all of these pictures, the pollen grains appear pinkish-red because they have been stained to make them easier to see under the microscope. In Forsyth County, pollen grains range from 12-80 microns in diameter which is less than the width of a typical human hair.
Daily Pollen Picture
Pollen Examples
What is the Email Version of Our Pollen Report?
Each weekday afternoon during the pollen season, the Forsyth County Office of Environmental Assistance and Protection emails the daily Pollen Report to all our Pollen Report subscribers. Our local pollen season typically occurs from late February through late October.
The Pollen Report indicates the day's pollen rating and predominant pollen type (trees, grasses, or weeds). A pollen forecast for the next three days is also included in the report. A typical report looks like the example shown below: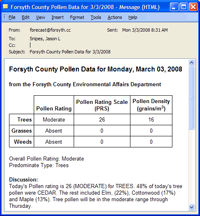 Subscribe to the Pollen Mailing List
How do I unsubscribe?
If you ever want to remove yourself from this mailing list, you can use the form above and select the Unsubscribe radio button. There is also a link at the bottom of every email that will allow you unsubscribe from this mailing.
Pollen Report Also Available by FAX
We can also send you the daily pollen report by FAX. If you'd like to receive the Daily Pollen Report by FAX or want to learn more about this distribution method, please contact us:
For more information contact:
Analysis and Monitoring Division, Pollen Monitoring Program
by telephone: (336) 703-2440
or email us.