For the protection of public health, safety and the environment, the Office of Environmental Assistance and Protection regulates solid waste management and franchised garbage collection services in the unincorporated areas of Forsyth County outside of the municipalities.
Solid Waste and Recycling
The Office of Environmental Assistance and Protection promotes pollution prevention, recycling, composting and best management practices for solid waste. Our staff is responsible for enforcement of the county code requirements for solid waste, recycling and prohibiting open burning. Daily activities include inspection of private landfills and mobile home parks, and responding to complaints regarding improper storage and disposal of solid waste, garbage and refuse, illegal dumping, and open burning. Upon request, we conduct individual property evaluations and neighborhood surveys to assess general sanitation and waste management practices.
Click here for more information on Recycling in Forsyth County.
Citizens are encouraged to report incidents of unauthorized dumping and open burning to the Office of Environmental Assistance and Protection at (336) 703-2440. To report someone littering on any roadway visit Swat-A-Litterbug.
Solid waste services vary depending on where you live in Forsyth County. If you live in one of the municipalities you should contact the town hall or administrative office to inquire about available solid waste services and collection schedules. If you live in an unincorporated area of the county you should direct your inquiries about solid waste collection services and disposal options to our Office at (336) 703-2440.
Franchised Collection Services
Solid Waste Collection Service
All households and small businesses in the unincorporated areas of the county have access to affordable franchised garbage collection service. Franchised service providers have assigned service areas and provide weekly curbside collection of garbage and refuse from residences and small businesses. The monthly fee for service is set by the Forsyth County Board of Commissioners. For information about rates and back door service for subscribers with special needs please call (336) 703-2440.
To find out which garbage collection company serves your area please Click Here.
If you need further assistance locating your service provider please call (336) 703-2440.
Return to top.
Landfills
For information about city/county landfills for disposal of household garbage, construction/demolition debris and yard waste in Forsyth County call (336) 727-8000. Landfill Rate Information
Materials Banned From Landfill Disposal
Landfill disposal of the following materials is prohibited by state law (NC General Statute 130A-309.10 (subsections f trough l)):
aluminum cans
plastic beverage bottles
white goods (appliances)
oyster shells
computers and televisions
wooden pallets
scrap tires
lead acid batteries
used motor oil
used oil filters
antifreeze (ethylene glycol)
For information about disposal/recycling options for these banned materials please call (336) 703-2440.
Land Clearing and Inert Debris Landfills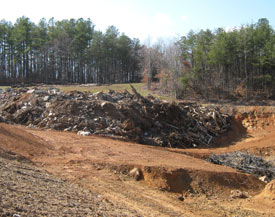 The Office of Environmental Assistance and Protection performs waste acceptance inspections at all privately owned Land Clearing and Inert Debris (LCID) landfills in Forsyth County. These landfills accept stumps, trees and other vegetation from land clearing activities; unpainted bricks, concrete blocks, concrete, used asphalt, rock and uncontaminated soil. They are not approved to accept any other construction and demolition debris.
For more information about LCID landfills including a list of approved facilities open to the public in Forsyth County, please call us at (336) 703-2440
Household Hazardous Waste & E-Waste
Forsyth County residents can drop off household hazardous waste and electronics free of charge, at 3RC EnviroStation located at 1401 South Martin Luther King, Jr. Drive in Winston-Salem (across from Bowman Gray Stadium). View the list of items that can and cannot be accepted.
Hours of operation:
Open Wednesday - Saturday 9:00 am - 3:00 pm. Closed Sunday – Tuesday, holidays and select holiday weekends.
For more information, please call 336-784-4300.
Useful Links