More Books We Like
Need a New Author?
Get printable versions of these lists by clicking on the list name.
Books We Like - Creepy Reads
Published 8/1/2019 by Chelsey Baggot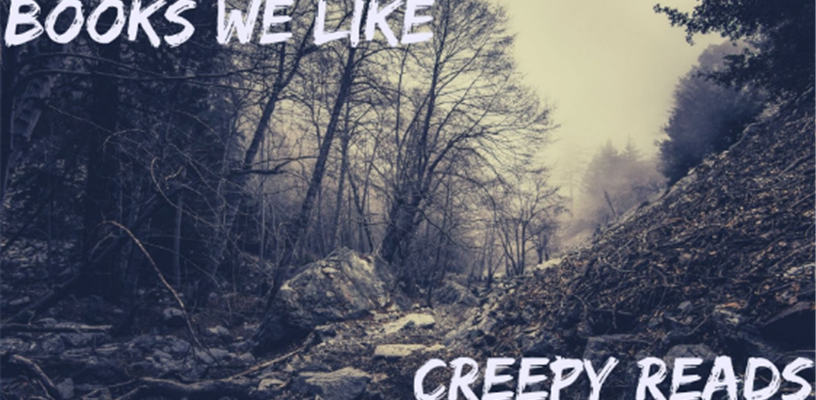 As the summer heat continues, Halloween and things that go bump in the night still feel agonizingly far away. But we don't need to wait until October to enjoy some deliciously creepy books! Here are a couple that are guaranteed to make your skin crawl, just a touch. "Will Haunt You" - Brian Kirk Jesse Wheeler has it made. His days are spent idly sleeping, and his nights are spent thrashing his guitar, alongside his heavy metal band mates. That is, until one awful night when Jesse permanently injures his young son, and he must kiss his rock god career goodbye. Guilt and despair leads him to discover a strange rumor in the deepest folds of the dark web--a rumor about a mysterious book capable of turning its readers into victims in an elaborate game of cat and mouse with the author. Soon, Jesse finds himself immersed in a full blown nightmare, where every past mistake has come forth to torment him. Can he finally become a hero to his son that he was always meant to be, or has the damage already been done? "The Worst is Yet to Come" - S.P. Miskowski All Tasha Davis wants is a best friend. All Briar Kenny needs is a loving family, that will treat her like their own. It feels like kismet when the girls meet in their sleepy, suburban town of Skillute, Washington. However, a night of unexpected violence force the girls to keep a deadly secret from everyone they know--a secret that seems to permeate through the town, causing strife and mistrust in abundance. Little do the townspeople of Skillute know that a deadly, and unimaginable force lurks beneath the streets, feeding off their negative energy, until it finally has enough power to make itself known during a night of unspeakable terror. "The Toll" - Cherie Priest Freshly married, Titus and Melanie Bell are eager to pack their car and set off for Okefenokee Swamp, where a cabin and romantic canoe trip awaits them. Hours into their trip, however, the couple comes to a rickety, narrow bridge and Titus suddenly finds himself unconscious on the ground hours later, with Melanie nowhere in sight. Titus' confusion only deepens when he frantically calls the police, and they inform him there is no bridge along Route 177. Convinced only he can save his wife, Titus must comb through a strange town, filled with even stranger inhabitants, to discover Melanie's whereabouts, and the true nature of the supernatural bridge. "Inspection" - Josh Malerman School is all J has ever known. Nestled in a lush forest, J, along with twenty-five other boys, attends classes centering around the arts and sciences, thanks to the school's enigmatic and illustrious Founder. J and his peers view the Founder as the epitome of a father figure, until a random chain of events leads J to discover another secretive nearby school--one filled with 26girls. Enter K, a student from the other school. When J and K inadvertently meet, the two begin to suspect there's a much darker motive behind each school's creation, and why each student was selected to attend. Down the rabbit hole they go, but will they survive long enough to discover the ultimate truth--and be free of the Founder's evil agenda?