More Books We Like
Need a New Author?
Get printable versions of these lists by clicking on the list name.
Books We Like
Published 10/8/2015 by Stefanie Kellum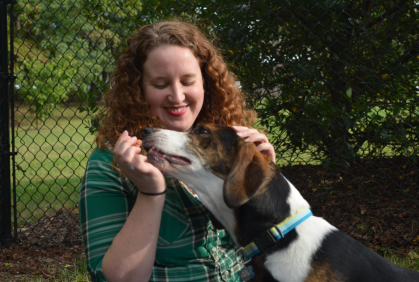 Did you know that October is National Adopt-a-Dog Month? To celebrate, I've chosen a few books for the young (or young at heart!) that feature courageous canines you're bound to love. Do you have room in your home and heart for a real live pooch to love? Go see our friends at the Forsyth County Animal Control Shelter, and they'll help you find the perfect dog for you to adopt. To find adoptable dogs (okay...and cats too), check out their list here.
In the first few pages of her book Smells Like Dog, Suzanne Selfors reassures readers that no dogs will die in the course of the book. Add to that the element of buried treasure and the adorable dog on the cover, and that was all it took for me to be drawn to this book. When aspiring treasure hunter Homer Pudding receives the news that his uncle has met an untimely death, he's completely distraught, but when he discovers he's inherited his uncle's most prized possession, a droopy basset hound with a mysterious coin on his collar (who is unimaginably named "Dog"), Homer realizes this may be his ticket to finally leave his family's goat farm and follow in his uncle's footsteps as a treasure hunter. The hilarious cast of supporting characters is sure to make you laugh. There's a giant lady who reminds me of the headmistress of Beauxbatons in Harry Potter, a strange man with a helicopter made of clouds, a spunky girl with pink hair, and a sister who aspires to be the world's greatest taxidermist; it's quite an interesting bunch. If you enjoy this one, you may want to pick up the next two books in the trilogy, Smells Like Treasure and Smells Like Pirates.
I adore graphic novels of all kinds, but my favorite graphic novel series written for kids is the Babymouse series by brother and sister team, Jennifer L. Holm and Matthew Holm. The series follows the adventures of the adorable and precocious Babymouse, a mouse with unruly whiskers who craves cupcakes, daydreams about finding herself in classic books, and can always seem to find trouble. In book eight, Babymouse: Puppy Love, Babymouse is in search of a pet to adopt. After exhausting her options at the pet store, a stray dog wanders into her life, and Babymouse learns that taking care of a dog is not for the faint of heart. It's a hilarious look at the chaos and joy that comes from dog ownership, and it will make your heart smile.
Finally, I can't very well write book reviews on dog books without including one of my favorite classic children's books, Where the Red Fern Grows by Wilson Rawls. Through the years, untold amounts of children have adored this tale of two faithful coonhounds, Old Dan and Little Ann, so if you're one of the few who's never read this one, now is the time. If you're like me and have no idea how many times you've read it, then lovingly pull your tattered copy off your bookshelf and give it another go; what's one more time? This charming adventure about a boy and his dogs is a love story in disguise that's peppered with suspense and humor. Readers of all ages will find something to tug at their heartstrings. It's the first book I can remember moving me to tears, so heads up, read it with a box of tissues.