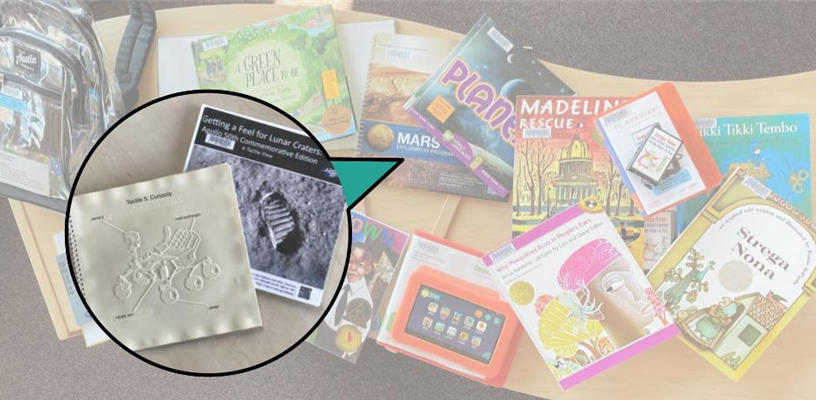 By April Mittelstaedt
Posted Tuesday, April 6, 2021
Not Just Books: Tactile Books (fun for ages 3+)
Learn by touch with braille and tactile books!
The library may be known as a place for free, fun programs and interesting books, but did you know you can find more than just books at the library? It's true! You can find a quick summary of our fun, not-book items by visiting this page.
Walkertown Branch Library is excited to offer tactile books for patrons to borrow. Our tactile books include tactile diagrams that you can explore by touch and text with raised braille translations.
---
What's Inside
Tactile Books
One book with braille text and tactile diagrams
Online PDF available
---
Borrowing Information
How can they be borrowed?
They can be found in a wooden trough above the picture books at Walkertown Branch Library and patrons of any age can check them out with a library card in good standing. They have a small, blue sticker that says "Tactile."
If you would like to update or apply for a library card, you can find more information
here
.
How long can they be borrowed?
Tactile books can be checked out for three weeks and can be renewed four times.
They can be placed on hold and you can
click here
to see which tactile books are available at Walkertown Branch Library or
here
for all the braille books available across Forsyth County Public Libraries.
How can they be returned?
They can be returned to book drops outside or to indoor book returns at any Forsyth County Public Library (or any NC Cardinal location).
---
Webstory and HTML Content by April Mittelstaedt 2021
Contact Us
Walkertown Branch
2969 Main Street
Walkertown, NC 27051
Phone: 336 703 2990
Email:
Contact Us
Hours of Operation
Monday-Thursday 9 a.m. to 8 p.m.
Friday 9 a.m. to 6 p.m
Saturday 10 a.m. to 5 p.m.
To-Go Service Hours
Monday-Thursday 9 a.m. to 8 p.m.
Friday 9 a.m. to 6 p.m
Saturday 10 a.m. to 5 p.m.
Holiday Closings
Friday, November 11 - Veteran's Day
Thursday, November 24 - Thanksgiving
Friday, November 25 - Thanksgiving
Friday, December 23 - Christmas holiday begins
Saturday, December 24 - Christmas Eve
Monday, December 26 - Christmas
Tuesday, December 27 - Christmas