This rule applies to spray application of coatings that contain compounds of chromium (Cr), lead (Pb), manganese (Mn), nickel (Ni), or cadmium (Cd) to any part or product made of metal or plastic or combinations of metal and plastic. Review the Material Safety Data sheet (MSDS) for each coating (including any additives) that you use at your facility. This rule does not apply to:
spray application of coatings that contain the compounds listed above or if the amount of the compounds in the coatings is below the thresholds specifie d in the federal rule.
surface coating performed by individuals on their possessions, or property, either as a hobby or for maintenance or if done for others without compensation.
facility maintenance. Facility maintenance does not include surface coating of motor vehicles, mobile equipment, or items that routinely leave and return to the facility, such as delivery trucks, rental equipment, or containers used to transport, deliver, distribute, or dispense commercial products to customers, such as compressed gas canisters.
Note: Spray application of coatings to any mobile or self-propelled vehicle is subject to the requirements for motor vehicle and mobile equipment surface coating (Auto Body Shops).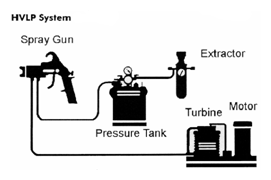 How Do I Comply?
You must complete and submit an Initial Notification Form IN and Notification of Compliance Status Form NOC-ME to the USEPA and this Department. You must also follow management practices and training requirements outlined below.
Management Practices:
You must apply coatings with a high volume, low pressure (HVLP) spray gun, electrostatic application, airless spray gun, or air-assisted airless spray gun. You may use an equivalent technology that is demonstrated by the spray gun manufacturer to achieve transfer efficiency comparable to one of the spray gun technologies listed above, and for which written approval has been obtained from the Administrator (EPA).
All spray-applied coatings must be applied in a preparation station or spray booth. Prep stations and spray booths must be fully enclosed with a full roof and four complete walls or complete side curtains. They must be ventilated at negative pressure so that air is drawn into any openings in the booth walls or prep station curtains.
The exhaust from the prep station or spray booth must be fitted with filters demonstrated to achieve at least 98 percent filter efficiency of paint overspray.
Spray guns are to be cleaned in an enclosed spray gun cleaner or by cleaning the disassembled gun parts by hand. No spray gun cleaning is to be performed by spraying solvent through the gun, creating an atomized mist.
Training:
All painters that spray-apply coatings must certify that they have completed training in techniques to minimize paint overspray.
All spray painters at new sources must complete training no later than 180 days after hiring, or by July 7, 2008, whichever is later.
All spray painters at existing sources must complete training no later than 180 days after hiring, or by January 9, 2011, whichever is later.
Initial painter training will be valid for a period of five years. Painters that completed training in the last five years before the compliance date will be able to use that training to satisfy the initial requirement. These painters must still renew training within five years of the initial training date. Initial training is not required if documentation or certification demonstrates that a painter's work experience and/or training has resulted in equivalent training.
Refresher training must be repeated at least once every five years.
Initial and refresher training must address the following topics to reduce coating overspray and emissions:

spray gun equipment selection, set up, and operation, including measuring coating viscosity, selecting the proper fluid tip or nozzle, and achieving the proper spray pattern, air pressure and volume, and fluid delivery rate;
spray technique for different types of coatings to improve transfer efficiency and minimize coating usage and overspray, including maintaining the correct spray gun distance and angle to the part, using proper banding and overlap, and reducing lead and lag spraying at the beginning and end of each stroke;
routine spray booth and filter maintenance, including filter selection and installation; and
environmental compliance with the requirements of this subpart.