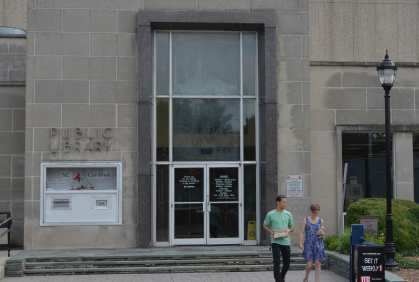 By Don Dwiggins
Posted Wednesday, July 29, 2015
Commissioners Approve Contract Bid to Demolish Central Library
Hazardous materials removal, demolition of the front part of the library and gutting of the rear section is tentatively set to begin in August after Forsyth County Commissioners approved a low-bid contract of $697,860 submitted by Demolition and Asbestos Removal Inc.
The final design for a new Central Library is now complete and includes most of the elements included by architects in a presentation to County Commissioners last November.
The new Library will be 101,000 sq. ft. in size and include the following:
FIRST FLOOR
240-set auditorium
Cafe/coffee bar
Exhibit area and event space
Demonstration kitchen
Computer lab
Training Bridge
Small meeting rooms
Technology "petting zoo"
Circulation desk and self-checkout
Children's Room
SECOND FLOOR
Meeting rooms
Makerspace
Art gallery
Teen zone
North Carolina Room
THIRD FLOOR
Forsyth Reading Room
Meeting rooms
General collection
Patio/covered terrace
GROUND FLOOR
Parking garage
Storage
Staff offices
Loading dock
Friends of the Library
"The design is something that we really like, and we feel that the public will be pleased," Library Director Sprinkle-Hamlin said. "We are looking forward to having a very exciting program at that location."
Wireless internet will be available throughout the new building as well as self-checkout kiosks. "I think that the building is flexible enough that we can meet the challenges of the new technologies," Sprinkle-Hamlin added.
The new Central Library is expected to open in the summer of 2017.
Contact Us
336-703-BOOK (2665)
Email:
Contact Us
Hours of Operation
Monday-Thursday 9 a.m. to 8 p.m.
Friday 9 a.m. to 6 p.m
Saturday 10 a.m. to 5 p.m.
To-Go Service Hours
Monday-Thursday 9 a.m. to 8 p.m.
Friday 9 a.m. to 6 p.m
Saturday 10 a.m. to 5 p.m.
Holiday Closings
Monday, January 2 - New Year's Day
Monday, January 16 - Martin Luther King, Jr. Birthday
Friday, April 7 - Good Friday
Monday, May 29 - Memorial Day
Tuesday, July 4 - Independence Day
Monday, September 4 - Labor Day
Friday, November 10 - Veteran's Day
Thursday, November 23 - Thanksgiving
Friday, November 24 - Thanksgiving
Friday, December 22 - Christmas holiday begins
Monday, December 25 - Christmas
Tuesday, December 26 - Christmas