By Patrice Toney
Posted Monday, April 19, 2010
STD Fight will be Fought on the Streets
Article taken from The Chronicle
published Thursday, April 15, 2010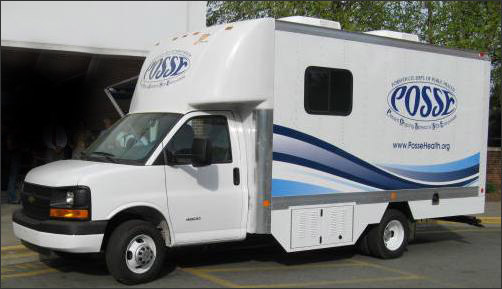 Members of the Forsyth County Department of Public Health's POSSE (Preventing the Spread of STD's Everywhere) team introduced the community to their newest weapon in the war against the spread of sexually transmitted diseases on April 7.
HIV/STD Prevention Supervisor Patrice Toney led a ribbon cutting ceremony outside of the Health Department to celebrate a new custom-built mobile STD testing unit. The vehicle, paid for by a grant from the N.C. Department of Health and Human Services, will be used to conduct off-site HIV and syphilis tests for people in the community, Toney said. "We plan to take the unit in non-traditional testing locations for those who never come to the Health Department (for testing)," she explained. "We want to make it as easy for people as possible."
The unit contains a private conseling area and a place where team members can draw blood for testing, an on-board refrigerator to safely store blood samples, and an external television where those in line can watch educational videos while they wait to be seen.
"It'll be nice," Syphillis Elimination Effort Coordinator Jennifer Nall said of the unit, which among other things will spare the team from having to resort to coolers to keep samples at optimum temperatures. "It'll make the idea of outreach a lot more powerful."
Health Department Director Tim Monroe believes the unit will help to slow HIV and syphilis infection rates in the area. "We have a challenge here in Forsyth County," Monroe said, referencing the STD infection rates in the county. "Hopefully, this will add to our tools to address that. We really do think it'll make a difference in the community."
The new unit will provide enhanced safety fo the team who often went into people's homes to conduct tests - and added confidentiality for patients compared to traditional community testing sites, where tests were often conducted in makeshift stations in public areas. Toney said. The team will also now be able to offer rapid HIV testing, where results come back in 10-15 minutes, on-site, she added.
"The mobilie unit is a really good idea," said POSSE team member Patricia Donaldson. " . . . It's confidential, it's high tech, and it's making people feel like "This is something I need to do to get tested.""
Among those in attendance at the ribbon-cutting was Katherine Foster, Vice President of AIDS Care Services, a local agency that provides myriad support services to local people with HIV/AIDS. Foster says the unit will allow more people to learn their statuses sooner, making the disease easier to treat for those who are diagnosed with HIV.
"Early detection of someone who is diagnosed with HIV is so important to their long term health,"she said. "The sooner you catch it, the more you can put into keeping them healthy for a long time."
Foster believes the unit will be a valuable addition to the community. "I think it's going to really build awareness that HIV is in Winston-Salem." she said. "The more people know that, it's going to help reduce the stigma (of HIV/AIDS)."
Nall says the unit will broaden the reach of the POSSE team, which was previously limited to conducting testing in locations that had a physical structure that they could set up in. Testing in the evening and at night has not been done in the past for safety reasons, Nall said. With the aid of the vehicle, Nall anticipates being able to target nightclubs and other venues that were unattainable as tesing locations in the past.
I think there'll be an increase in participation and also an increase in what we're able to do," she commented. "And for a while, it'll be a novelty. People will want to come out and see what it is."
The team has long anticipated the arrival of the unit, which has been in the works since last fall, Nall said. "I'm glad it's here; it's been a long time coming," she remarked. "Hopefully, we will see a change in people getting educated and people knowing their statuses so they can take care of their health, because that's the ultimate goal here."