By Walkertown Branch Library
Posted Monday, August 24, 2015
Summer Readers from Walkertown Win Bookstore Gift Cards
Presley Green, pictured, won the county-wide Children's Summer Reading Program prize of a $100 gift card to Barnes & Noble Booksellers. Her name was drawn at random by computer from among 398 children ages 12 and under who registered at Forsyth County Public Library's Summer Reading website and logged eight or more hours of reading time during June and July.
Green's prize is funded by the Forsyth County Public Library. She enjoys reading Harry Potter and reading about horses.
Also winning $25 Barnes & Noble cards from among other readers at Walkertown Branch were Rebecca Harlow and Ava Ratley. Harlow logged thirty-two hours which qualified her for four entries in the children's category, ages 12 and under. Ratley (pictured below) registered forty hours which earned her five entries in the teen category.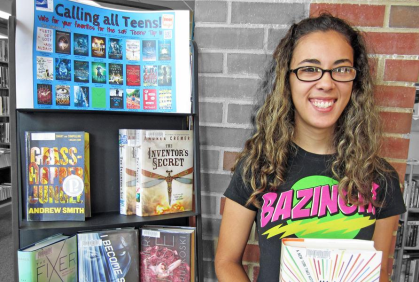 The Friends of the Walkertown Library organization supports the goals of reading for fun and reading to learn during the summertime by funding these branch-level gift certificate prizes.
More than four hundred adults also entered Summer Reading for Adults by reading at least three books. A third branch-wide gift card of $25 was awarded to adult winner Amber McDowell (pictured below). Amber has read close to 30 books this summer and submitted her reading logs to the library. Her favorite genre is Mystery. She came to the library to receive her prize with her daughter Sophia, also an avid reader. Congratulations to McDowell and all our winners!