The Clubhouse is located beside Mount Pleasant Church. This facility has two different venue options.
Full Ballroom with Upper Mezzanine and outside covered terrace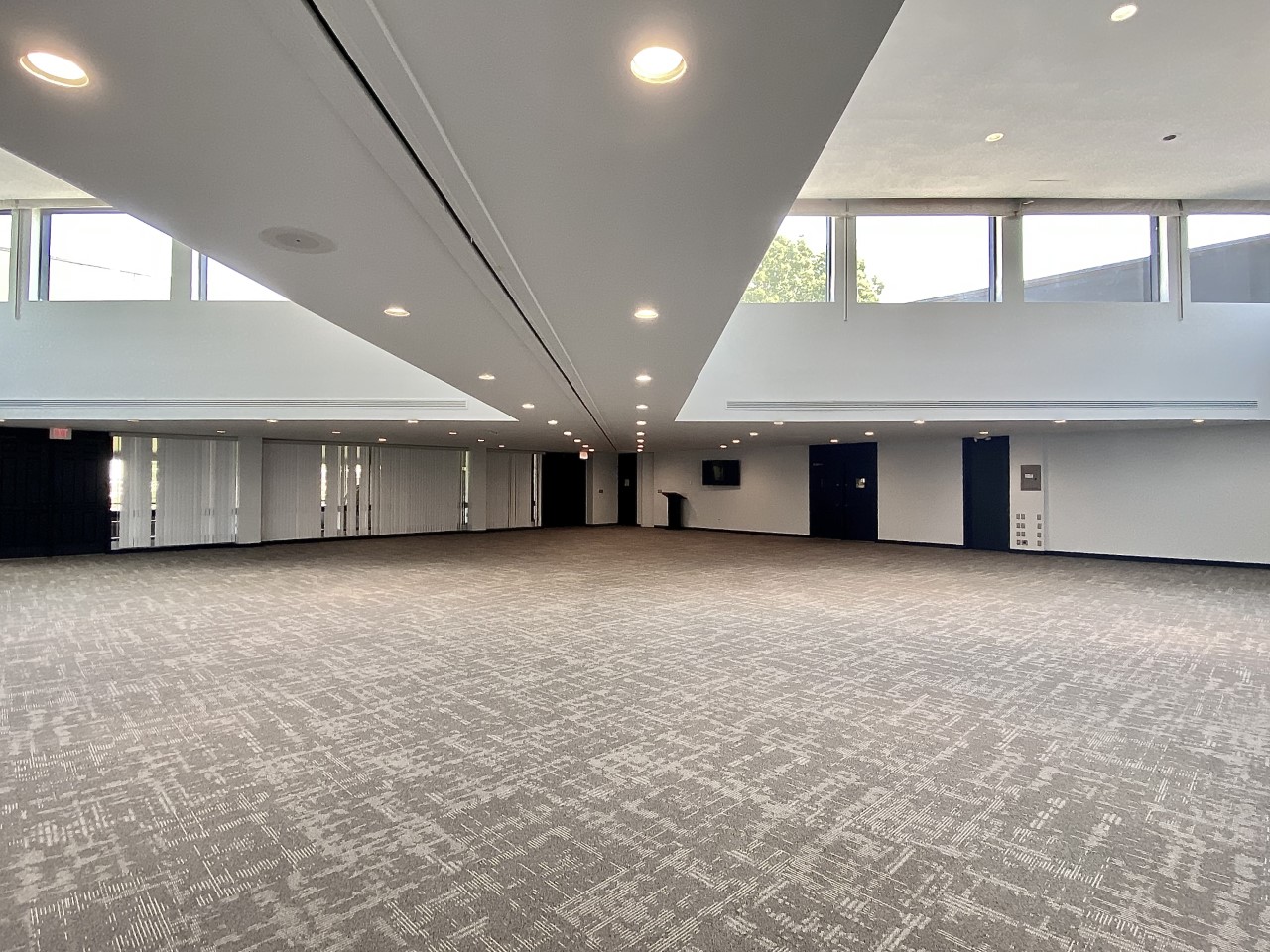 This facility is available for viewing by appointment only. Please contact Providence at 336.744.3456 to set up your appointment.
Dance the night away! The Ballroom is perfect for a wedding reception featuring either a sit-down or stand-up dinner. The high ceilings and exceptional window views will create the perfect ambiance for your event!
Capacity

Theater Style Seating

Maximum seated capacity = 480
Recommended seated capacity = 300

Maximum Set Up with Tables

Maximum seat and table capacity = 250
Recommended seat & table capacity = 200 main space, 50 mezzanine

Total Available Chairs = 350

Client is responsible for furnishing additional chairs or tables above the provided quantities listed.

Cost
$600
Includes

325 black, molded plastic chairs
25-60" round tables
8-8' tables

Details

8 large upper level windows
Recessed lighting
Caterer access to commercial-grade kitchen
16 standard 120V wall outlets
3 standard 120V floor outlets
1 220V electrical outlet
2 Ethernet connections available
2 double-door access to covered terrace
3 standard 120V electrical outlets on terrace
Built-in wooden benches along rail on terrace
9 standard 120V electrical outlets in upper mezzanine
All rental items must be delivered and picked up on day of event. No rental items may be left overnight.
Tanglewood is not responsible for any items left after rental period.
Only waxless candles are allowed. No open-flame candles are allowed.
Must use Providence for catering.
No birdseed, confetti, lime, chalk, paints, and no items taped, nailed, or tacked to the walls are allowed. Each instance will result in an additional clean-up fee being charged.
Please be aware that in late September, the lights for Festival of Lights will be in the process of being put up around the Clubhouse. We will not delay putting up the lights for an event.
If alcohol is served, renter must provide Tanglewood with a certificate of Liquor Liability Insurance.
Bounce house or inflatable not allowed
See Park Policies for more information.
Grill Room
A perfect place for your small meeting or get-together.
Capacity
Conference Style: 25-30
Cost
$125 entire day
Details

14 cushioned armchairs with rollers
Free WI-FI
1 recycling bin (for bottles and cans)
11 standard 120V electrical outlets
Wall-mounted television
2 Ethernet connections available