What is the power of one book? Can it do more than enlighten and entertain individual readers? Can it impact the heart and soul of a community, help us to open new lines of communication and lay the groundwork for a stronger and better Forsyth County? We believe that On the Same Page, the Library's community book reading program, has the potential to do just that. On the Same Page seeks to broaden appreciation of literature through the shared experience of reading and discussing a single work of literature. It offers us a unique opportunity to see things through a different perspective, one that will only expand our understanding of the world around us.
The Forsyth County Public Library also sponsors an annual celebration of poetry that complements On the Same page, called On the Same Poem, in which participants read and discuss a single poem.
Now in its 18th year, On the Same Page continues!
2018 Book Selection
Pretty Monsters by Kelly Link
September 8 through October 20, 2018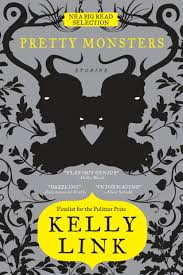 The Forsyth County Public Library has stepped out of its comfort zone with this year's NEA Big Read: On The Same Page selection, and it hopes that the community will be willing to follow
"Pretty Monsters," a short story collection by Kelly Link combines elements of science fiction, horror and fantasy. Link uses the weird, the otherworldly and the paranormal to get at the universal with a motley cast that includes aliens, ghosts, wizards and the ordinary folk who encounter them.
Each library branch will have a variety of programs related to "Pretty Monsters," ranging from a wizard's tea to a monster movie series.
"Pretty Monsters" will also be the focus of several events at Bookmarks Festival of Books & Authors on Saturday, Sept. 8 in downtown Winston-Salem.
There will be a Young Adults Fantasy Panel discussion with authors Roshani Chokshi, Zoraida Cordova, Claire Legrand and Makiia Lucier from 12:15-1:15 p.m. at Hanesbrands Theatre.
Learn why "Pretty Monsters" should be your next must read this fall at "Magic and Monsters and Mysteries, Oh My!" from 2:45-3:30 p.m. at the Milton Rhodes Center for the Arts.
In addition, the library will feature these special programs:
Roshani Chokshi, author of fantasy novels, will discuss her latest book for teens, "Star-Touched Stories" on Tuesday, Sept. 11 at 4:30 p.m. in the Central Library Auditorium.
On Saturday, Sept. 15 at 10:30 a.m., author Sheryl Monks, author of the short story collection, "Monsters in Appalachia," will hold a writer's workshop on short story writing at the Central Library auditorium.
The library will sponsor a short story writing contest between Sept. 15-Oct. 10. Entries must be original work of up to 1,000 words and can be submitted at any Forsyth County Public Library location by Oct. 10. The Winston-Salem Writers group will review the entries and choose winners in child, teen and adult categories. Each winner will receive a $100 gift card, have their work added to the library catalog and be invited to read their short story at the Pretty Monsters Finale Ball.
The Monster Ball finale is a costume party on Saturday, Oct. 20 at the Central Library from 6-9 p.m.. Guests are encouraged to dress up as characters from "Pretty Monsters" or from their favorite fantasy, sci-fi or horror novel. There will be food, games, dancing and prizes for the best costumes. The party is free, but attendees must have a ticket. Call your local branch for information on tickets





2017 Book Selection

Take Out: A Sigrid Harald Novel by Margaret Maron

2016 Book Selection

Animal, Vegetable, Miracle by Barbara Kingsolver

2015 Book Selection

In the Heart of the Sea by Nathaniel Philbrick

2014 Book Selection

Serena by Ron Rash

2013 Book Selection

The Pursuit of Happyness by Chris Gardner

2012 Book Selection

The Warmth of Other Suns by Isabel Wilkerson

2011 Book Selection

The Road to Devotion by Cameron Kent

2010 Book Selection

The Maltese Falcon by Dashiell Hammett

2009 Book Selection

Their Eyes Were Watching God by Zora Neal Hurston

2008 Book Selection

Fahrenheit 451 by Ray Bradbury

2007 Book Selection

Ender's Game by Orson Scott Card

2006 Book Selection

The Land Breakers by John Ehle

2005 Book Selection

In the Time of the Butterflies by Julia Alvarez

2004 Book Selection

I Know Why the Caged Bird Sings by Maya Angelou

2003 Book Selection

Walking Across Egypt by Clyde Edgerton

2002 Book Selection

To Kill A Mockingbird by Harper Lee