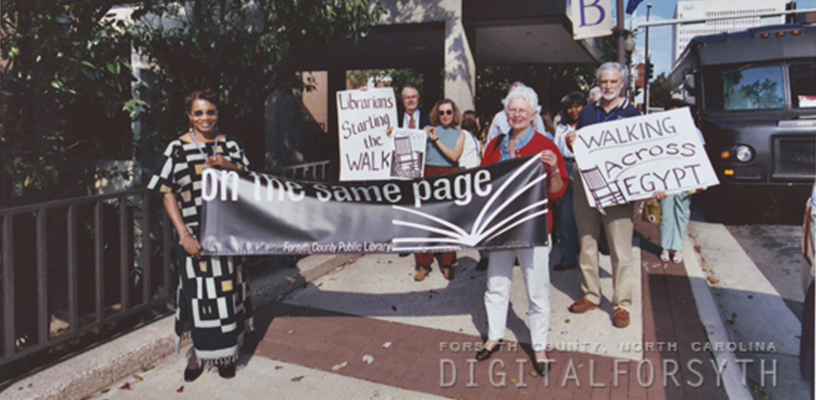 By Todd Bowser
Posted Thursday, January 13, 2022
Celebrating Sylvia Sprinkle Hamlin 1945-2022
Pictured: Former Forsyth County Public Library Director Sylvia Sprinkle Hamlin leads a procession from the Central Library promoting and celebrating the On The Same Page community read in 2003. Photo: Digitalforsyth.org.
Sylvia Sprinkle Hamlin broke through barriers in the Forsyth County Library System for four decades. She was its first African American director and its first woman director. She created the first bookmobile service for our Spanish-speaking neighbors, drove the creation of our Computer Training Bridge digital literacy program, and brought technology access for individuals with hearing and visual impairments.
She also led the North Carolina Black Repertory Theatre and the National Black Theatre Festival, carrying on the legacy of her late husband Larry Leon Hamlin, who founded the theatre and festival in 1979 and 1989, respectively.
You can read more about her extraordinary life here at The Historymakers.
"Sylvia was a pioneer and giant in both libraries and the arts, particularly here in Winston-Salem and throughout Forsyth County. Her many contributions to Forsyth County Public Library, the profession and our community are both remarkable and immeasurable. Sylvia will most certainly be missed by many and her work and legacy will undoubtedly continue to live on in our hearts and minds." - Library Director Brian Hart
Resolution of Respect from the Black Caucus of the American Library Association
Contact Us
336-703-BOOK (2665)
Email:
Contact Us
Hours of Operation
Monday-Thursday 9 a.m. to 8 p.m.
Friday 9 a.m. to 6 p.m
Saturday 10 a.m. to 5 p.m.
To-Go Service Hours
Monday-Thursday 9 a.m. to 8 p.m.
Friday 9 a.m. to 6 p.m
Saturday 10 a.m. to 5 p.m.
Holiday Closings
Friday, November 11 - Veteran's Day
Thursday, November 24 - Thanksgiving
Friday, November 25 - Thanksgiving
Friday, December 23 - Christmas holiday begins
Saturday, December 24 - Christmas Eve
Monday, December 26 - Christmas
Tuesday, December 27 - Christmas